SDCF Recognizes Doug and Linda Buri with Christen-Larson Heritage Circle Award
October 4, 2023 //
Donors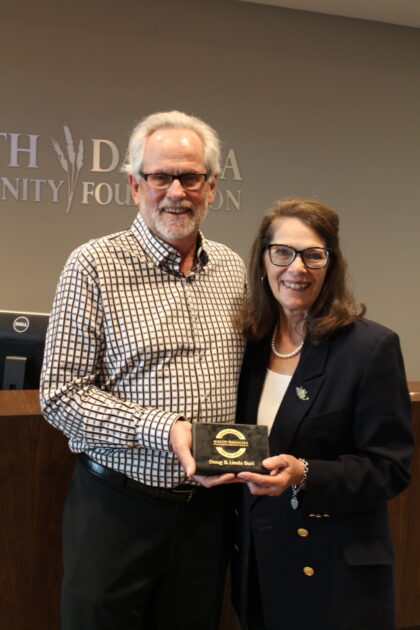 Doug and Linda Buri of Milbank, S.D. were recently awarded the South Dakota Community Foundation (SDCF) Christen-Larson Heritage Circle Award.
The Christen-Larson Heritage Circle honors two very important families in the evolution and continued growth of the South Dakota Community Foundation. Paul and the late Muffy Christen championed growth and sustainability in the communities in which they owned and operated banks. Dale Larson and his late wife, Pat, have quietly supported some of South Dakota's greatest philanthropic endeavors for decades. Both couples have instilled the spirit of generosity in their daughters to continue to support charitable organizations and programs that help meet basic human needs such as food, clothing, shelter and education.
The Buris have been champions for the Milbank community since Linda started her fashion boutique business, Linda's Fashions, in 1980. Since that time, they have been generous donors to charitable causes in the area as well as contributing to a donor advised endowment fund (DAF) with SDCF.
"With this fund, Linda and I are able to see our charitable dollars grow over time and distribute funds to any nonprofit organizations we choose, forever," said Doug Buri. "We trust the investment and administrative expertise provided by SDCF and are honored to partner with them in creating a stronger Milbank and South Dakota."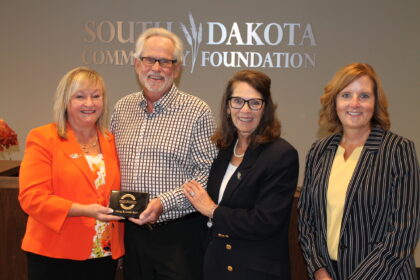 In addition to establishment of their DAF, the Buris have generously supported the Fairy Godmother's Fund (FGF), a permanent endowment fund held at SDCF to provide immediate, short-term, critical financial support to women in South Dakota. In 2022 and 2023, the Buri's offered a challenge to donors. Gifts to the FGF would be matched with funds from Doug and Linda making an even greater impact.
It is the goal of the FGF to make a difference in the lives of women in South Dakota. It isn't always easy to make ends meet. Sudden illnesses, loss of employment, abuse and other issues can spring up and devastate strong women in our communities. We help them get back on their feet.
The FGF was created to improve the health and well-being of South Dakota women with limited resources. The fund helps them address immediate, short-term, critical needs that can't be met by traditional funding options. Our Advisory Council of women throughout the state work to ensure the funds benefit women's needs throughout the year. Linda Buri became a council member in 2023.
"We are grateful to the Buris for their continued support not only to the Fairy Godmother's Fund but to the charitable causes in the Milbank area and to their DAF with the SDCF," Ginger Niemann, SDCF Senior Program Officer said. "It is because of generous donors like Doug and Linda that we are able to create a never-ending story of people helping people."
SDCF is a public non-profit organization established in 1987. SDCF, with offices in Pierre, Rapid City, Sioux Falls and Aberdeen administers 1,200 funds benefiting hundreds of charitable organizations annually. The Foundation distributed nearly $30 million in grants in 2022 which made a tremendous difference in communities statewide. This would not have been possible without the generosity of our donors. If you have a specific cause you would like to support or would prefer to give for the general good of our state, please visit https://sdcommunityfoundation.org/giving to learn more or call 1-800-888-1842.