The South Dakota Community Foundation (SDCF) recently awarded a $15,000 South Dakota Fund grant to support updates to the Britton Baseball and Softball complex.
"We have had the great fortune of receiving a few sizeable grants recently, with the SD Community Foundation being one of those. We have and will continue to make great strides with not only the aesthetics of our ballpark, but also safety and accessibility. We are beyond excited and so very grateful have the ability to continue to grow our program that touches the lives of so many kids in the Britton area," Kyla Richter, Elementary Principal, Special Education and Title Director, Britton-Hecla Schools.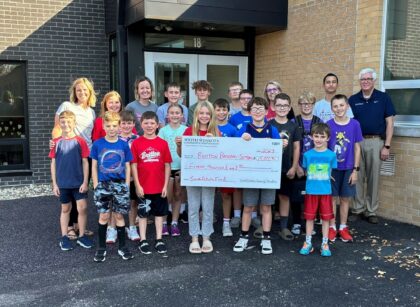 The Britton Baseball and Softball organization was created in 2021 as the community experienced rising interest and participation in youth sports on the field. The organization's current programming includes baseball and softball for youth in Britton. With ballpark improvements, the field will be better able to support tournaments, as well as making the property more accessible across the community.
"The community of Britton has completed a lot of fundraising to make the necessary improvements at the baseball complex," says Ginger Niemann, SDCF Senior Program Officer. "SDCF is proud to award these matching funds."
To learn more about funding opportunities offered by the SDCF, please visit our website at https://www.sdcommunityfoundation.org/
SDCF is a public non-profit organization established in 1987. SDCF, with offices in Pierre, Rapid City, Sioux Falls and Aberdeen administers 1,200 funds benefiting hundreds of charitable organizations annually. The Foundation distributed nearly $30 million in grants in 2022 which made a tremendous difference in communities statewide. This would not have been possible without the generosity of our donors. If you have a specific cause you would like to support or would prefer to give for the general good of our state, please visit https://sdcommunityfoundation.org/giving to learn more or call 1-800-888-1842.