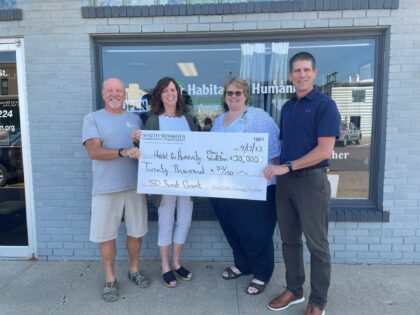 The South Dakota Community Foundation (SDCF) recently awarded $40,000 in competitive grant awards to two Yankton area nonprofits. Habitat for Humanity of Clay and Yankton Counties and the Yankton Youth Soccer Association each received $20,000 from the South Dakota Fund grant program.
"The SD Community Foundation funding will allow us to be nimbler in acting on lot purchase opportunities as they arise," said Cindy Erlandson, Executive Director for Habitat for Humanity of Clay and Yankton Counties. "This gives us the opportunity to work with one or more families in need of affordable housing which ultimately helps us fulfill our mission of serving a "hand up" to families pursuing their dreams of homeownership."
Habitat for Humanity of Clay and Yankton Counties was founded in 1996 under the guidance of Dr. Kenneth Halverson and other Yankton community members who saw a need for affordable housing solutions. They are currently partnering with their 54th family served through homeownership via new construction or rehabbed homes. Habitat's main purpose is to partner with low-income families to provide affordable housing solutions. Funds from SDCF will help the group acquire land to build more homes.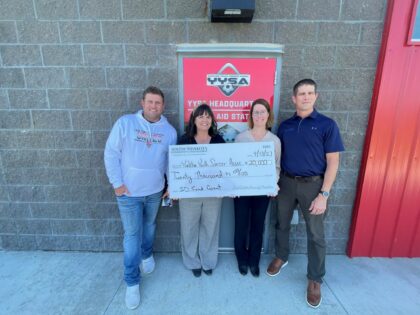 "As we are working through finalizations on the construction of the First Dakota Soccer Complex, we are honored and grateful to receive a $20,000 grant from the South Dakota Community Foundation," said Cole Mohnen, President of the Yankton Youth Soccer Association. "This complex has been a complete community effort, and we at the Yankton Youth Soccer Association feel our mission closely aligns with the intentions of the Foundation itself. This funding will be assisting in improving our complex for generations of families in Yankton and the surrounding areas."
For almost 35 years, the Yankton Youth Soccer Association has served over 14,000 youth ages 6-19. As the popularity of soccer has grown, as has the need for more field space. In January 2022, two lead gifts from First Dakota and Larry and Diane Ness started the initiative to expand the fields. Since that time, over $2.5 million in public and private pledges have been made to update the field complex. The Yankton Youth Soccer Association's grant award will help with updating community use areas around the new fields such as installing playground equipment.
"SDCF's support for housing and youth sports in Yankton is a testament to the wide range of needs communities have across the state. SDCF was proud to support the community of Yankton as they rally to both complete the new soccer complex and continue to support lower income residents with affordable housing options," said Ginger Niemann, SDCF Senior Program Officer.
To learn more about funding opportunities offered by the SDCF, please visit our website at https://www.sdcommunityfoundation.org/
SDCF is a public non-profit organization established in 1987. SDCF, with offices in Pierre, Rapid City, Sioux Falls and Aberdeen administers 1,200 funds benefiting hundreds of charitable organizations annually. The Foundation distributed nearly $30 million in grants in 2022 which made a tremendous difference in communities statewide. This would not have been possible without the generosity of our donors. If you have a specific cause you would like to support or would prefer to give for the general good of our state, please visit https://sdcommunityfoundation.org/giving to learn more or call 1-800-888-1842.