The South Dakota Community Foundation (SDCF) recently awarded the Claire City Community Women a $4,500 South Dakota Fund grant to help update playground equipment in the city park.
"The Claire City Community Women would like to thank the South Dakota Community Foundation for investing in the future of our small town. Their generosity is greatly appreciated and will help a great deal in moving forward with purchasing our new playground equipment. Our children are getting very excited to have an updated park to play at," said the Claire City Community Women.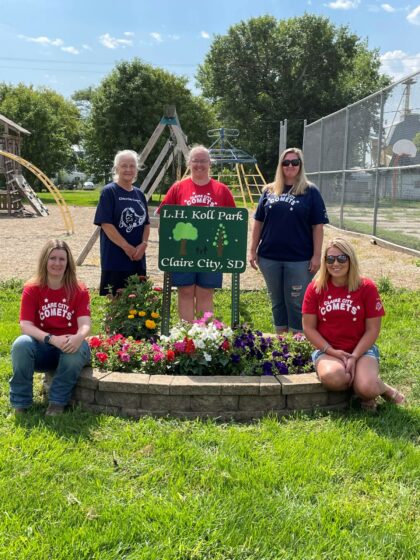 The Claire City Community Women started as The Women's Auxiliary and was made up of the local volunteer firemen's wives. In 2004 the group was opened to all the Claire City women and the name was changed to Claire City Community Women. The main mission of the group was, and still is, to maintain the city park. The current playground equipment in the Claire City park was installed in 2005. The equipment is now weathered, warped, and splitting. Some of the plastic pieces that are attached are cracked. Updated playground equipment will benefit children in Claire City.
"The Claire City Community Women have been fundraising for new playground equipment," says Ginger Niemann, SDCF Senior Program Officer. "SDCF was glad to provide matching funds to support this community effort."
To learn more about funding opportunities offered by the SDCF, please visit our website at https://www.sdcommunityfoundation.org/
SDCF is a public non-profit organization established in 1987. SDCF, with offices in Pierre, Rapid City, Sioux Falls and Aberdeen administers 1,200 funds benefiting hundreds of charitable organizations annually. The Foundation distributed nearly $30 million in grants in 2022 which made a tremendous difference in communities statewide. This would not have been possible without the generosity of our donors. If you have a specific cause you would like to support or would prefer to give for the general good of our state, please visit https://sdcommunityfoundation.org/giving to learn more or call 1-800-888-1842.