The South Dakota Community Foundation (SDCF) recently awarded the Winner PIX Theater with a $15,000 South Dakota Fund grant. Funds will help restore important features of the theater that were lost in fires, including the concession stand and chairs.
"The Pix Theater is an important part of our small town and its history," said Lynnelle Anderson, volunteer board member of the Winner PIX Theater. "The grant provided by SDCF provides the community a wholesome entertainment venue where all ages and demographics come together. We are grateful for SDCF's support and commitment to our thriving community."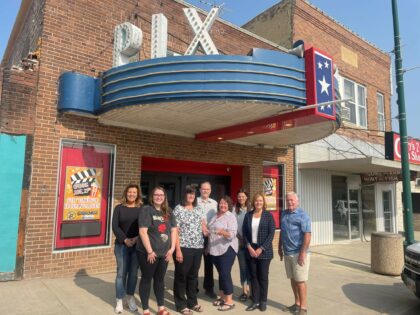 In April of 2019, the owner of the PIX Theater passed away and the City of Winner created a volunteer board of directors who now manage the theater. In 2022, two separate fires in the structure led to a total loss of the concussion stand, main lobby and bathrooms. Due to water, smoke and fire damage, the board and many community volunteers have gutted the theater and are now in the process of rebuilding and replacing everything. Since the fire, hundreds of volunteer hours have gone into restoring the theater.
"SDCF is proud to support the community-wide effort to restore the Winner PIX Theater. Let the show go on!" said Ginger Niemann, SDCF Senior Program Officer.
To learn more about funding opportunities offered by the SDCF, please visit our website at https://www.sdcommunityfoundation.org/
SDCF is a public non-profit organization established in 1987. SDCF, with offices in Pierre, Rapid City, Sioux Falls and Aberdeen administers 1,200 funds benefiting hundreds of charitable organizations annually. The Foundation distributed nearly $30 million in grants in 2022 which made a tremendous difference in communities statewide. This would not have been possible without the generosity of our donors. If you have a specific cause you would like to support or would prefer to give for the general good of our state, please visit https://sdcommunityfoundation.org/giving to learn more or call 1-800-888-1842.