Yankton Area Foundation
Keep the Legacy Alive
Founded in 1995

Giving Back to Yankton
Our Mission:
The Yankton Area Foundation, a local nonprofit corporation provides a reliable source of funds for the purpose of benefiting the social and economic well-being of the community of Yankton and the surrounding area. The Yankton Area Foundation provides a source of grant funding for community needs today and for years to come.
History of the Yankton Area Foundation
In 1995, a group of dedicated leaders came together to establish a permanent foundation supporting the community of Yankton. The Yankton Area Foundation accepted a challenge from the South Dakota Community Foundation in 2008 to raise $200,000. The Yankton Area Foundation board of directors and donors successfully completed this challenge in 2013 to receive a $25,000 grant from the SDCF.

Grants
To date, the Yankton Area Foundation has given back more than $320,000 to nonprofit groups and organizations in Yankton. Thank you all for making our community a better place to live, work, and play. Keep up the great work, and keep applying with innovative projects and programs for our community.
Grant Application (Deadlines for applications are April 1 and November 1)
Keep the Legacy Alive

Yankton is a very caring place to live and grow. Many of our citizens regularly volunteer and financially support the various community non-profit activities and organizations.
The Yankton Area Foundation is the perfect vehicle for you to leave a lasting legacy. Your contribution will be maintained in a professionally managed investment account. Earnings will be distributed based on the recommendations of a board of directors, comprised of Yankton area civic leaders and residents. As a result, Yankton continuously receives grants that will benefit the social and economic well-being of the community and surrounding area.
The YAF General Fund is the main account from which the YAF Board makes distribution decisions. Under the YAF there are several Donor Advised Funds, as the name implies the charitable distributions from these funds are designated by the donor. All these gifts are irrevocable and only earnings from the funds will be distributed. These funds combined create a charitable revenue stream to the Yankton region forever.
5 Star Communications (KVHT)
Applied Engineering
Avera Sacred Heart Hospital
Bertsch, Ron or Jan
Bon Homme Yankton Electric Association
Collison, Patrick or Jeanne
CorTrust Bank
Cox Auto Supply, Inc
Dakota Chiropractic
Days In Yankton
Drs. Michael & Darcie Briggs, DDS, PC
Eide, Clark & Agnes
Eisenbraun & Associates, Inc
Eisenbraun, Daniel and Patricia
Eng, Glen & Carla
Farm Credit Services of America
First Dakota National Bank
First National Bank South Dakota
Franzen, Nathan & Michelle
Gerstner, Kathie & Rudy
Gubbels, Gail & Deb
Gubbrud, John D.
Hatch Furniture
Healy, Mike & Gerrie
Heine Cattle Company, Inc
Huether, Mike, Cindy, and Kylie
Hunhoff, Jean & Dan
HyVee
Johnson, Miner, Marlow, Woodward, Huff
Kettering, D.L & P.W.
Kennedy, Gail
Kindle, Wayne & Marjorie
Kolberg-Pioneer, Inc.
Koletzky Implement
Kulbel, Richard or Theresa
Manitou Group (GEHL)
Mannes Architects
Merrill, Thomas & Dorothea
Mickelson, TedMike Stevens/Blackburn & Stevens, Prof. LLC (To
be directed to the Deborah Omanson Stevens
Music Scholarship)
Munson, Donald or Julie
Ness, Larry and Diane
Ness, Rob
Pure Vision, Inc
Rezac, Pamela
Shorma, William & Marcie
Stern Oil Co. Inc.
Sternquist, Nancy & John
Stotz, Tom & Julie
Sutton, Bob & Lori
Tessier, Darwin & Lavila
Vanderhule, Ross & M. Brooke
Vishay
Williams & Company
Winter, Robert & Carol
Woodward, Sheila & Sonne, Christopher
Yankton Family Dentistry
Yankton Insurance Agency
Yankton Medical Clinic
Non Cash
Riverfront Broadcasting, LLC.
Anonymous Donations
3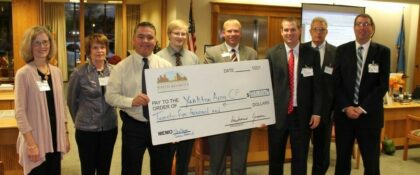 Meet Our Advisory Council
President – Nick Moser
Vice President – Curt Dykstra
Secretary/Treasurer – Cheryl Beck
Committee Members:
Tony Beste
Chris Kassin
Dana Larson
Scott Nedved
Terry Tennant
Daniel Semmler
Aaron Ness
Lynn Peterson
Ryan Cwach
Dr. Jill Sternquist
Brent Rupiper
Hayley Ridgway
Deanna Branaugh
Support the Yankton CSA

Help Yankton thrive for generations to come.

Contact Information
P.O. Box 463
Yankton, SD 57078
Contact Us
Thank you for your interest in our foundation. If you have questions or comments about partnership opportunities, please let us know.