Boys and Girls Club of Brookings

For Vanessa Merhib, executive director of the Boys and Girls Club of Brookings, Moody County and Yankton, it's important that the club always remains affordable for children. That's one (of many) reasons why Merhib values the club's partnership with the South Dakota Community Foundation (SDCF). SDCF helps the club invest their funds, which are raised through donations from individuals, businesses and grants.
"South Dakota Community Foundation manages our endowment funds," says Merhib. "They've helped us keep our yearly membership rate at $25 for each boy and girl. We don't have to frequently increase our rate, and therefore, we don't have to turn kids away. They've also given grants to our clubs in Moody County and Yankton. Basically, the Community Foundation has helped us create a sustainable organization."
The Boys and Girls Club of Brookings launched in October 2003. It's an umbrella organization with five different boys' and girls' clubs serving youth in Brookings, Moody County and Yankton. The clubs provide safe places for kids of all ages to learn and grow, develop relationships with caring adults, enhance character, and give youth a sense of hope and opportunity. Programming is focused on teaching children leadership, as well as strategies for maintaining a healthy lifestyle and academic success. The clubs are open after school and on Saturdays, as well as on days when school isn't in session.
"Our mission is to inspire and enable all young people, especially those who need us most, and to recognize their full potential as productive, responsible and caring citizens."

Vanessa Merhib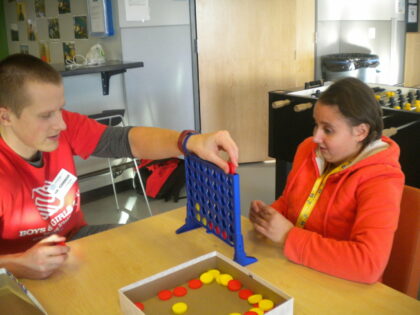 The support of the SDCF has been vital to the success of the club. "They have given us stability and allowed us to take more risks in our programming, like offering summer school programs. They've helped us serve more kids each year." Currently, the Club has 3,600 members between the Brookings, Moody County and Yankton locations.
Merhib, who has been executive director for more than a decade, says what she loves most about her job is that every day presents a new challenge. She genuinely enjoys working with kids and families, and connecting folks within communities. "It's been wonderful to collaborate with South Dakota Community Foundation, and for two like-minded nonprofits to come together to do good. We're creating a place that can keep growing. We wouldn't be able to do that without their support and expertise."