Wiliam and Joan (Sieler) Ferguson of Witten, SD have generously donated $100,000 in unrestricted funds to be administered by the Tripp County Community Foundation. This donation will be set up in a sub-fund of the Tripp County Community Foundation that will be named the Michelle Paige Ferguson and Michael John Ferguson Memorial Fund.

Earnings from this fund will be used for grant making to non-profits in the Tripp County area. This is a tremendous gift that the Ferguson's are giving to the Tripp County area that will not only benefit many non-profit organizations from now into perpetuity, but it will be a lasting memorial for the lives of their children.

The establishment of this fund has been something Bill and Joan have thought about doing for some time. This fund will honor two of Bill and Joan's children that left life on earth too early. Ferguson's stated "Tripp County has long been a patriotic and generous community with a strong commitment to youth development through schools, churches, fraternal , and business organizations. Our daughter Michelle and our son Michael received solid foundations for learning and personal achievement in this community.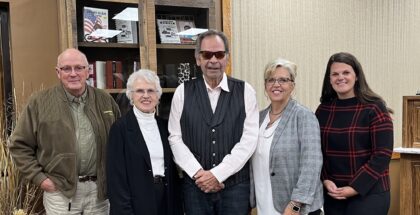 Courtesy of Tripp County Community Foundation
In 1976 after working as an electrical engineer, Bill, and his wife Joan along with their three children Michelle, Michael, and Heather moved to the family farm near Witten., SD. The family farm was founded in 1929 by John William Dean who was Bills grandfather. All three of Bill and Joan's children were graduates of Winner High School in 1982, 1985, and 1986, respectively.

An added benefit to this gift is that it will go towards the goal of the new fundraising challenge for the Tripp County Community Foundation that was announced in September. The details of the fundraising challenge are: Tripp County Community Foundation needs to raise $200,000 in donations and when complete, the Foundation will receive $100,000 from the Grossenburg family, and the South Dakota Community Foundation will provide a $50,000 challenge grant from the Lillibridge Family Community Fund. All funds raised will be unrestricted and be used for grant making to non-profit organizations in the Tripp County area. The total added to the permanent endowment with challenge funds will be $350,000. If the Foundation accomplishes this goal, it will increase the amount available for grant making by ~ $15,750 annually.

The Tripp County Community Foundation gives our deepest gratitude to the Ferguson's for their gift. Our entire area should be thankful!

Based upon this generous gift it is fitting to share information on the lives of those who it remembers:

Michael John Ferguson, 43, of De Pere, Wisconsin, passed away unexpectedly on August 18, 2011, and Michelle Ferguson, age 53, Winner, S.D., passed away on August 26, 2017, at the Winner Regional Long Term Care Facility.

Michael began elementary school in Harvard, Massachusetts, and finished at Eden School, a one-room country school in Lone Tree Township, Tripp County, SD. He graduated from Winner High School in 1985 and went on to earn a bachelor's degree in electrical engineering at the South Dakota School of Mines and Technology, Rapid City. In college he joined and was elected President of Triangle Fraternity. After graduation and a three-month tour, the "Great American Road Show," in his 1976 Buick Century Eagle with college friends, he began his career at Honeywell Aerospace, Phoenix AZ. He then worked at Dale Electronics in Yankton, South Dakota, and Schreiber Foods and Foth and VanDyke of Green Bay WI. From 1998 until his death, he enjoyed his work as an electrical systems engineer for Foth Companies in Green Bay, Wisconsin. For a time, he lived in Washington, New Jersey and helped open the Foth office in Florham Park. He also took a short sabbatical to work on the family farm in Witten. He attended Pilgrim Lutheran Church in Green Bay and Hope Lutheran Church in De Pere, Wisconsin. Michael was a proud godfather to Orrin Clark and nieces Dorothy Rose and Marlys Lillian Otten. Dorothy's letters and artwork covered his refrigerator and walls. Michael was an avid bicyclist, riding up to thirty miles a day, striving for health and fitness. He rode alone or with friends, just for the joy of cycling. He was the go-to-guy, whether at the Little Chute pizza lines, pulling friends or strangers out of snowbanks, taking charge of farming operations in emergencies, or solving family computer problems. Michael was a dutiful son, generous brother, loving nephew, devoted uncle, loyal friend, and a man of high principle. As described by friends at Foth, "a wonderful man." His death from a heart attack at age 43 leaves a void in the lives of all who knew him, but a joy in the knowledge of his salvation in Christ.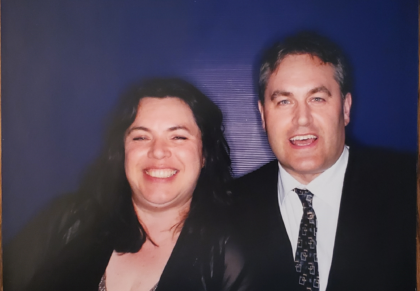 Michelle loved school and the east coast. When the family moved back to South Dakota to the family farm in Witten, Michelle joined Eden School in Lone Tree Township. It was a tremendous change from life in Harvard, Mass, to a country school.
In 1982 Michelle graduated from Winner High School and began college at SDSU in Brookings, S.D. Michelle remembered only the good things about the east coast and left college to work as a nanny for the McCarthy family in New York. Michelle enrolled in Long Island University where she finished her accounting degree in 1988 but continued to work as a nanny.
Upon graduation, Michelle enrolled in Pace University Law School. There she met fellow student, Rochelle Weisburg, with whom she developed a life-long friendship. They received their Juris Doctorates in 1991. Michelle passed the New York bar exam on the first try and began work at IBEW Local 1430 Union. Michelle continued her close relationship with the four McCarthy children, attending their sporting events, driving them to school events and being their go-to-auntie. Michelle loved the excitement and energy of New York City.

In 2003, Michelle experienced a sudden change in vision as she was driving to work. She was diagnosed with a frontal lobe oligodendroglioma brain tumor and immediately underwent surgery in Bethlehem, Pa. The surgery was partially successful, but her prognosis was shortened to only a few years. A stage two clinical trial for brain tumors was beginning at Memorial Sloan Kettering Hospital (MSKH) in New York City and Michelle became one of sixty-five participants. The cutting-edge treatment was an adult stem cell transplant where her immune system was reduced to nothing. Michael, who worked in New Jersey, was allowed to visit during this treatment, but Dr. Kaley of MSKH declared South Dakota germs were not allowed, so the rest of the family could not visit. Michelle continued to work during her long battle with the recurring tumor, undergoing periodic chemo treatments at MSKH and an MRI every three months. She holds the record for the most MRI's given to one patient at Sloan.

Eventually, the tumor forced Michelle to quit her job and take disability. She continued living on her own in Danbury, Conn., for three years and could still drive and explore New York City. While in Danbury, she was an active member of Immanuel Lutheran Church and enjoyed the quilting group and working with the Comfort Dog Program.

Finally, in October of 2016, Michelle had to move back to Winner because she needed extra care. She lived in a private residence for five months and spent four more months at Winner Long Term Care until her death August 26, 2017, at age 53, surrounded by her family.

Our community will be forever grateful for this gift that Bill and Joan Ferguson are giving to us on behalf of their beloved children. Bill and Joan also stated "we are pleased to support the Tripp County Community Foundation by establishing this fund. We encourage others to support the Foundation as well."
To donate or learn more about the Tripp County Community Foundation, click here.