The South Dakota Community Foundation (SDCF) is proud to partner with the Bush Foundation to introduce the 2023 Bush Prize: South Dakota winners: Black Hills Special Services Cooperative (BHSSC) and Lost&Found. BHSSC will receive the maximum award of $500,000 and Lost&Found will receive $185,000. As finalists for the award, Dakota Resources and LifeScape will also receive $10,000.
"We are thrilled and honored to have the opportunity to recognize both Black Hills Special Services Cooperative and Lost&Found for their innovative efforts to improve the lives of those they serve," said Stephanie Judson, SDCF President & CEO. "Both organizations offer resources and diligently pursue solutions that benefit individuals and their families."
SDCF received 48 applications for the 2023 Bush Prize: South Dakota. Applications were evaluated on how the organization demonstrated being inclusive, collaborative and resourceful in their processes, how the organization demonstrated patterns of innovative solutions and how the organization leadership fosters a culture of innovation, in addition to being strong in terms of governance and finances. Out of 48 applications, 4 organizations were selected as finalists for the Bush Prize: South Dakota and two were selected as winners.

BHSSC practices innovative and collaborative processes in a number of ways in their work with schools and families across South Dakota. BHSSC provides specialized educational services and resources to cater to the unique learning needs of students and families in the Black Hills region and across the state. BHSSC is a champion for community-led education across the state, acting collaboratively as a liaison between schools and government policies. BHSSC has recently focused on boosting family engagement in education and works to empower local school leaders to better engage and include families in education initiatives. BHSSC conducts leadership training internally as well as in the communities they serve. Every school community is unique, and BHSSC works with each school to adapt programming and meet students and families where they are in order to improve student outcomes.


Lost&Found advocates for mental health awareness and provides resources for individuals facing mental health challenges, reducing stigma and connecting people with vital support. Lost&Found was formed by high school students and has focused their efforts on the target demographic of 15-34 years old. Lost&Found demonstrates innovation through their data-driven and collaborative work with colleges across South Dakota, which has included developing and deploying a Campus Resilience Index as a planning tool, guiding a student-to-student mentorship program, and currently developing a mobile app as a peer support tool for the digital age. In addition to internal practices that promote leadership and innovation internally, Lost&Found has already made an impact in driving messaging for mental health awareness across South Dakota.
"BHSSC and Lost&Found are both organizations that exemplify what it means to be a Bush Prize winner. In every area of their work within their organizations and with those they serve, they represent innovative solutions. We are so excited to be able to lift both of these organizations up as an example of what it means to be a Bush Prize winner," says Ginger Niemann, SDCF Senior Program Officer.
The Bush Prize celebrates organizations that are highly valued within their communities and have a track record of successful community problem solving. It's a recognition of the transformational impact these organizations are having throughout MN, ND, SD and the 23 Native nations that share that same geography. Bush Prize winners have a drive to bring communities together to think bigger and differently about their approach to solving problems in innovative and collaborative ways. Bush Prize awards are up to 25% of an organization's last fiscal year expenses, with a maximum of $500,000. There are four Bush Prize awards throughout the region, operated by four community grant partners in partnership with the Bush Foundation. SDCF administered the 2023 Bush Prize for South Dakota.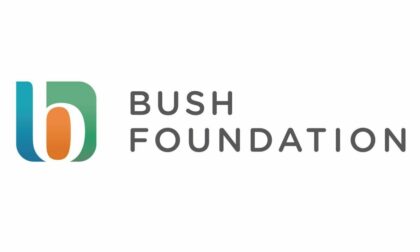 "Bush Prize winners are doing big things in partnership with their communities," says Jen Ford Reedy, Bush Foundation President. "I love that the Bush Prize gives flexible funding to organizations that are highly valued by their own communities. One of our operating values is to "work beyond ourselves," which includes the commitment to both lead and follow. We are following the good counsel of the South Dakota Community Foundation as we jointly award the Bush Prize to organizations they selected. We congratulate the Bush Prize winners and celebrate their work!"
Bush Prize: South Dakota will be made available to nonprofits again in 2024.
To learn more about funding opportunities offered by the SDCF, including the Bush Prize: South Dakota, please visit our website at https://www.sdcommunityfoundation.org/
SDCF is a public non-profit organization established in 1987. SDCF, with offices in Pierre, Rapid City, Sioux Falls and Aberdeen administers 1,200 funds benefiting hundreds of charitable organizations annually. The Foundation distributed nearly $30 million in grants in 2022 which made a tremendous difference in communities statewide. This would not have been possible without the generosity of our donors. If you have a specific cause you would like to support or would prefer to give for the general good of our state, please visit https://sdcommunityfoundation.org/giving to learn more or call 1-800-888-1842.
The Bush Foundation works to inspire and support creative problem solving — within and across sectors — to make the region better for everyone. They do this by investing in great ideas and the people who power them in Minnesota, North Dakota, South Dakota and the 23 Native nations that share that geography. The Foundation works through open grantmaking programs to support efforts to: develop, test and spread great ideas that will make the region better for everyone; and inspire, equip and connect people to more effectively lead change.