The South Dakota Community Foundation (SDCF) recently awarded Youth & Family Services (YFS) Inc. with a $10,000 South Dakota Fund grant.
"The $10,000 grant from SDCF's South Dakota Fund is making a tremendous impact on many youth in our community," shared Maureen Murray, YFS' Director of Mental Health and Prevention Services. "These grant dollars will allow YFS' Counseling Center to purchase supplies and equipment needed to provide our Equine Assisted Psychotherapy (EAP) treatment to children, ages 4 and up, and to cover costs associated with cultural competence. This form of therapy is helpful and well received by many Native American youth whose families have a cultural connection to horses, and it is important to be culturally ethical in our work. EAP can help clients in ways that traditional therapy cannot."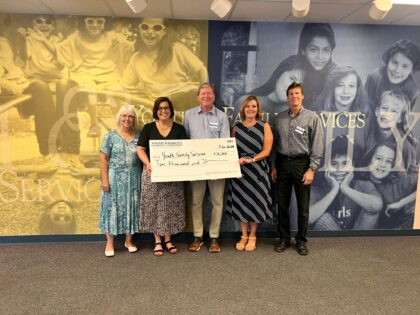 YFS began operating in 1965 and has incorporated new programs and services over the years, expanding from a girl's focused organization to supporting the needs of children and families in the community. YFS serves over 14,000 individuals each year, including youth and families. YFS assists youth and families with mental health counseling and related services, which includes a wide variety of educational programs that also guide youth in important life skills.
"Youth & Family Services has proven to be a good partner over the years," says Ginger Niemann, SDCF Senior Program Officer. "We're glad to lend support as they equip their youth programming."
To learn more about funding opportunities offered by the SDCF, please visit our website at https://www.sdcommunityfoundation.org/
SDCF is a public non-profit organization established in 1987. SDCF, with offices in Pierre, Rapid City, Sioux Falls and Aberdeen administers 1,200 funds benefiting hundreds of charitable organizations annually. The Foundation distributed nearly $30 million in grants in 2022 which made a tremendous difference in communities statewide. This would not have been possible without the generosity of our donors. If you have a specific cause you would like to support or would prefer to give for the general good of our state, please visit https://sdcommunityfoundation.org/giving to learn more or call 1-800-888-1842.