The South Dakota Community Foundation (SDCF) recently awarded the Historic Homestake Opera House Society a $10,000 South Dakota Fund grant. Funds will provide support for the organization's education and outreach programs.
"The Homestake Opera House is honored to receive this grant from the SDCF. This funding will help us strengthen and expand our education and outreach programs to our communities," says Christine Allen, Historic Homestake Opera House Development Director. "Not only will this allow us to continue our community theatre program for adults and children but also our new "Arts for All" program."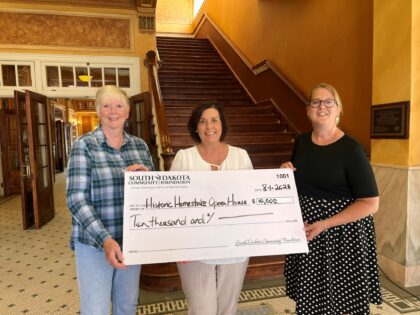 Located in Lead, SD, the Homestake Opera House opened its doors in 1914 and was home to a 1,000-seat theater, a library, indoor swimming pool, a billiards room and other public spaces. A fire in 1984 devastated the building. Though the building was vacant for many years, the community has since rallied to restore the building to a point in which it serves again as both a venue for the performing arts and as a community center. In addition to supporting continued operations of the theater, funding from the South Dakota Fund grant will support a program called "Arts for All" which began in 2022 and is designed to partner education classes from the Opera House with other community groups and their needs.
"As the Historic Opera House partners with other community organizations in their work, SDCF is glad to support this continued outreach in the Northern Black Hills," says Ginger Niemann, SDCF Senior Program Officer.
To learn more about funding opportunities offered by the SDCF, please visit our website at https://www.sdcommunityfoundation.org/
SDCF is a public non-profit organization established in 1987. SDCF, with offices in Pierre, Rapid City, Sioux Falls and Aberdeen administers 1,200 funds benefiting hundreds of charitable organizations annually. The Foundation distributed nearly $30 million in grants in 2022 which made a tremendous difference in communities statewide. This would not have been possible without the generosity of our donors. If you have a specific cause you would like to support or would prefer to give for the general good of our state, please visit https://sdcommunityfoundation.org/giving to learn more or call 1-800-888-1842.