The South Dakota Community Foundation (SDCF) recently awarded Horizon Health Foundation a $10,000 South Dakota Fund grant for their "Smiles for Miles" initiative, which provides pediatric dental screenings at each of Horizon Health Care's clinics in Howard, De Smet, La Plant, Faith, Martin, Alcester, Plankinton, and Yankton.
"It is so important to the overall health of our smallest patients to be able to visit the dentist early in life - ideally before the first year," said Michelle Scholtz, Horizon's chief dental officer. "Working with committed partners like the South Dakota Community Foundation allows us to see children who may not otherwise be able to have their teeth cleaned and checked. This sets them on the right path to achieve lifelong wellness."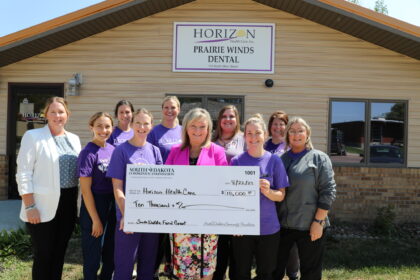 Horizon Health Care has been a medical, dental and behavioral health care provider in South Dakota for nearly 45 years and has eight facilities across South Dakota. The Horizon Health Foundation was established in 2016 to provide funding for programs that remove barriers to healthcare, including transportation, food insecurity, and finances. The goal of the Smiles for Miles program is to encourage early preventative education in oral healthcare among children. Since 2018, 939 children have been seen through the Smiles for Miles program, and Horizon has set a goal to reach 200 children in the next year. Funding from SDCF will help fund approximately 60 children through the Smiles for Miles program, which will provide those children ages 0-5 with a free dental exam, cleaning, and fluoride treatment.
"Access to preventative healthcare is so important and is especially a challenge in rural areas," says Ginger Niemann, SDCF Senior Program Officer. "SDCF was proud to support this initiative supporting dental screenings for children."
To learn more about funding opportunities offered by the SDCF, please visit our website at https://www.sdcommunityfoundation.org/
SDCF is a public non-profit organization established in 1987. SDCF, with offices in Pierre, Rapid City, Sioux Falls and Aberdeen administers 1,200 funds benefiting hundreds of charitable organizations annually. The Foundation distributed nearly $30 million in grants in 2022 which made a tremendous difference in communities statewide. This would not have been possible without the generosity of our donors. If you have a specific cause you would like to support or would prefer to give for the general good of our state, please visit https://sdcommunityfoundation.org/giving to learn more or call 1-800-888-1842.