First Interstate Greater Wall Area Fund
Learn about the CSA in Wall, SD.

Founded in 1989

Giving Back to Wall
The First Interstate Greater Wall Area Fund officially partnered with the South Dakota Community Foundation in 1989 as a way of supporting nonprofit and charitable projects and organizations in and around the community. The fund is a permanent endowment with the South Dakota Community Foundation and managed by a local board of directors. To date, $425,000 has been raised by the board, who have also distributed over $379,000 in grants and scholarships back to the community. The First Interstate Greater Wall Area Fund celebrated their 25th anniversary in 2014.
In 2009, the Greater Wall Area Fund was challenged by the First Interstate BancSystem Foundation to raise $10,000 each year for five years. If they were successful, they would receive a $10,000 matching grant. In addition, the South Dakota Community Foundation offered a match of $25,000 at the end of the five year challenge. In December 2014, the board of the Greater Wall Area Fund successfully completed their challenge.
"Our endowment provides nonprofit organizations in the community access to capital in time of need. We found out that people in our community can be very generous when supporting an effort they believe in."

Brett Blasius, President of the First Interstate Bank in Wall and Chair of the Greater Wall Area Fund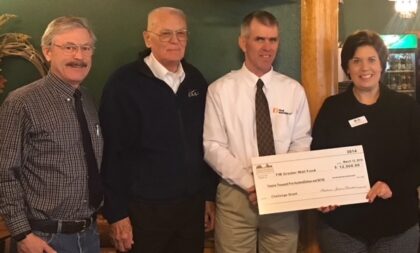 Grants
Grants are available to nonprofit groups and organizations in the Wall area. Please contact one of our board members to acquire a grant/scholarship application.
Our Contributors
We are so grateful to the generous donors and businesses in the Wall area for supporting this effort. Everything that we do for the community is because of the people and businesses listed below. Thank you for your support!

Anderson Brothers Partnership

Best-Wall, Inc.
Creighton Community Hall
First Interstate Bancsystem Foundation, Inc.
First Western Bank-Wall
Golden West Communications, Inc.
Dawn Hilgenkamp
Rick & Patt Hustead
Dick & Pamela Johnson
Richard & Pamela Johnson
Matt & Stephanie Judson
Patricia Kjerstad
Dennis & Bonnie Law
Michael O'Keefe
Mark & Jenny Patterson
Norbert and Jane Sebade
Norbert & Jane Sebade
Wayne & Melanie Shull
Guy & Jeannie Smith
Jean Smith
South Dakota Community Foundation
Sunshine Inn
Bob & Lori Sutton
Wall Drug Store
Wall Service, Inc.
West River Electric Association, Inc.
Westco Home Center
In 1989, Norbert Sebade joined a group of community leaders interested in building an endowment fund for the Wall area. He and his wife Jane have made the single largest individual contribution to the First Interstate Greater Wall Area Fund in its history. Their gift of $25,000 has established the Norbert and Jane Sebade Greater Wall Area Fund which will benefit local nonprofit organizations.
"We believe this to be a worthy cause in a town that we've called home for many years."

- Norbert Sebade
Norbert and Jane's contribution was made in memory of the Sebade family who came to Wall in 1909. Henry (Heinie) Sebade homesteaded on Bull Creek Hill and his wife, Anna (Mooney) was raised on Mooney Hill near Creighton. Their contribution will help the First Interstate Greater Wall Area Fund board of directors to give more grants each year to nonprofit and community projects making the Wall area a better place to live.
Meet Our Advisory Council
Brett Blasius
Denny Law
Patricia Kjerstad
Richard Hustead
Richard Johnson
John Tsitrian
Stan Anderson
Norbert Sebade
Support the Wall CSA

Help Wall thrive for generations to come.

Contact Information

P.O. Box 402
Wall, SD 57790
Contact Us
Thank you for your interest in our foundation. If you have questions or comments about partnership opportunities, please let us know.