Midland Community Foundation
Learn about the CSA in Midland, SD.

Founded in 1995

Giving Back to Midland
The Midland Community Foundation was established in 1995 to act as a vehicle for Midland residents and busiensses to give back to their community. Generous donors have contributed $105,000 to the fund allowing for over $72,967 to be given back in grants to the community.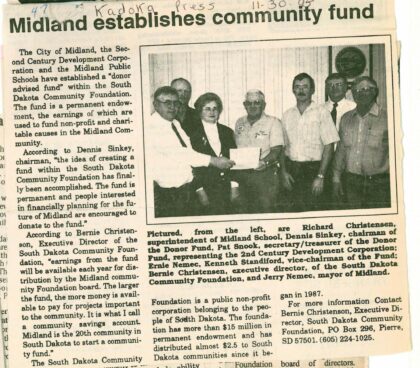 Grants
The Midland Community Foundation has distributed $72,967 in grants back to the community since 1997. As our fund grows, so will our ability to make grants to benefit groups and organizations in Midland. Thanks to everyone who has supported this effort!
For more information about grants from the Midland Community Foundation, please contact our board of directors
Pictured below are children from the 2013 summer reading program. The Midland Community Library received a grant from the Midland Community Foundation to run the program.
Our Contributors
Thanks to our generous supporters, over $105,000 has been donated to the Midland Community Foundation since 1995 allowing for nearly $73,000 in grants to be given back to the community. Thanks to the following individuals and businesses for believing in a bright future for Midland.

Alice McGuire
Anita & Carl Alf-Ttee
Catherine Jassmann
Clifford Phillips
Floyd and Judy Kieffer
Howard Elrod
John Nemec
Keith Farries
Lawrence Merkle
Mahlon Alcock
Midland Community Foundation
Midland School Trust & Agency
Ora Kieffer
Richard & Celia Doud
Roger & Edna Dale
Second Century Development, Corp.
Town of Midland
Anthony & Kelly Nelson
Clark & Carmen Alleman
Edna Joy
Ernie Nemec
Frank & Shirley Halligan
Gerald & Joy Phillips
Jean Hunter
Jerry Nemec
Karel Reiman
LeRoy & Carol Hunt
Linda Sinclair
Patricia Snook
Richard & Celia Doud
Ronald & Shirley Doud
Rose Nelson
Thomas & Mary Parquet
Midland Community Foundation
Anthony & Kelly Nelson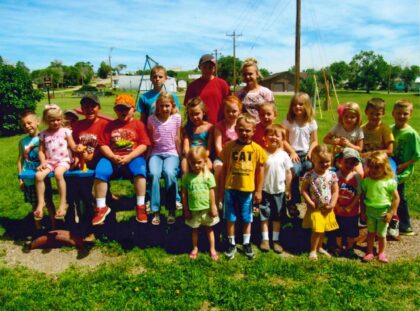 Meet Our Advisory Council
Ernie Nemec
Dennis Sinkey
Mike Trap
Ruben Vollmer
Roger Dale
Support the Midland CSA

Help Midland thrive for generations to come.

Contact Information

P.O. Box 248
Midland, SD 57552
Contact Us
Thank you for your interest in our foundation. If you have questions or comments about partnership opportunities, please let us know.