Recorded Lunch and Learn event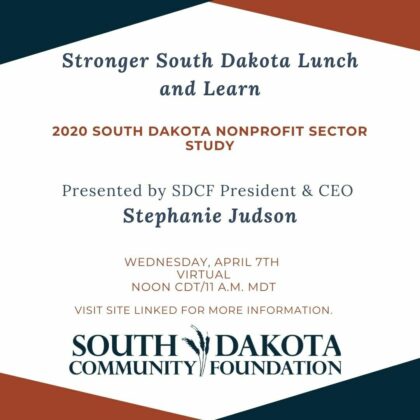 In early 2020, SDCF commissioned a study aimed at providing information on the impact of philanthropy in South Dakota broadly.
More specifically, it gathered data to back what we have long believed as an organization—that philanthropy fuels South Dakota's economy and enriches our communities. Perhaps most of all, it reminded us that South Dakotans are truly generous people who love this state.
Kelly Gibson & Matt Ehlman from the Numad Group and Rural Philanthropy Institute will be presenting the key findings from the comprehensive study commissioned by the South Dakota Community Foundation.
Join our President & CEO, Stephanie Judson, as she and Numad Group from Rapid City share the state of philanthropy in South Dakota. For an overview of the study, please visit our webpage.
Event will take place on zoom Wednesday, April 7th at noon CDT/11 a.m. MDT.

Please RSVP by Tuesday, April 6th to receive the webinar link.