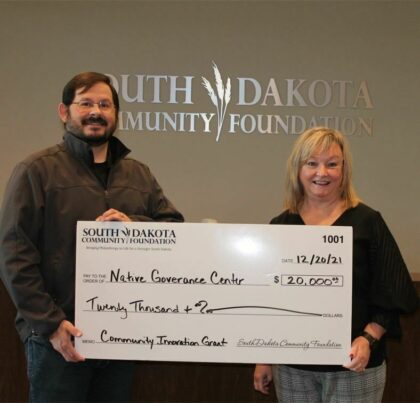 "The South Dakota Community Foundation's investment into the work of the Native Governance Center allows us to continue to bring resources to native communities, driving their solutions related to governance and leadership issues they identify with. We are proud to have SDCF as a partner in our work!"

Wayne Ducheneaux, II, Executive Director, Native Governance Center
Community Innovation Grants are offered in partnership with the Bush Foundation and focus specifically on supporting community problem-solving projects. Forty-eight applications were submitted in Round 2, 2021 and eleven resulted in securing funding. The Native Governance Center was one of those successful applicants.
The South Dakota Community Foundation (SDCF) is proud to work with the Center through the Community Innovation Grant program and provide support for their project:
Native Governance Center (Statewide): $20,000
The Native Governance Center will provide customized, current, accurate, and culturally resonant governance training for partnering Native Nations. This project is rooted in the five principles of "Native nation rebuilding" as derived from research by the Harvard Project on American Indian Economic Development.
About this Nonprofit
The Native Governance Center is a Native-led nonprofit, founded in 2015, to support revitalizing the governance systems in Native nations located in Minnesota, North Dakota, and South Dakota.
About the SDCF
SDCF is a public non-profit organization established in 1987. SDCF, with offices in Pierre, Rapid City, Sioux Falls and Aberdeen administers over 1050 funds benefiting hundreds of charitable organizations annually. The Foundation distributed nearly $18 million in grants in 2020 which made a tremendous difference in communities statewide. This would not have been possible without the generosity of our donors. If you have a specific cause you would like to support or would prefer to give for the general good of our state, please visit https://sdcommunityfoundation.org/giving to learn more or call 1-800-888-1842.
About the Bush Foundation
The Bush Foundation invests in great ideas and the people who power them. Established in 1953 by 3M Executive Archibald Bush and his wife Edyth, the Foundation encourages individuals and organizations to think bigger and think differently about what is possible in communities across Minnesota, North Dakota, South Dakota and the 23 Native nations that share the same geographic area.