The South Dakota Community Foundation (SDCF) recently awarded Working Against Violence, Inc. (WAVI) with a $10,000 South Dakota Fund grant. Funds will provide support for provisions needed in their newly expanded shelter once reconstruction is complete.
"Your generous gift will help WAVI provide safe shelter, access to community resources, education, and most importantly the tools to begin a life free of violence, and one full of hope," said Linda Shroll, Executive Director, Working Against Violence, Inc.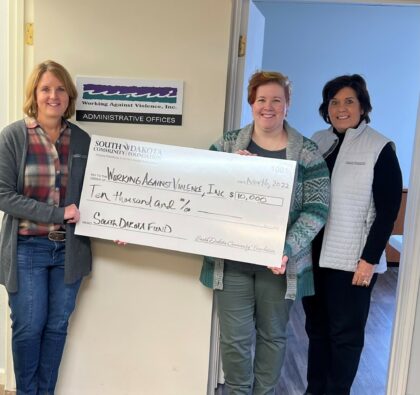 WAVI, located in Rapid City, SD, provides assistance to victims of domestic violence and sexual assault. WAVI moved into its current facility in 2004 where they offer the region's most secure, supportive, and comprehensive services for survivors of violence at no cost. Demand for their services continue to increase and they are expanding the WAVI shelter facilities to accommodate the clients coming for assistance and staying longer due to Rapid City housing shortages.
"People who have been victimized are looking for a safe place to land," said Ginger Niemann, Senior Program Officer, SDCF. "We are proud to play a small role in providing the support needed for them to re-build their lives."
To learn more about funding opportunities offered by the SDCF, please visit our website at https://www.sdcommunityfoundation.org/
About the SDCF
SDCF is a public non-profit organization established in 1987. SDCF, with offices in Pierre, Rapid City, Sioux Falls and Aberdeen administers over 1,100 funds benefiting hundreds of charitable organizations annually. The Foundation distributed nearly $18 million in grants in 2021 which made a tremendous difference in communities statewide. This would not have been possible without the generosity of our donors. If you have a specific cause you would like to support or would prefer to give for the general good of our state, please visit https://sdcommunityfoundation.org/giving to learn more or call 1-800-888-1842.