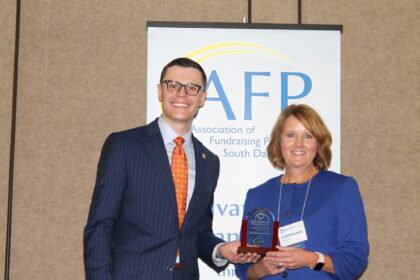 SDCF President & CEO Stephanie Judson recently received the South Dakota Association of Fundraising Professionals (AFP-SD) Outstanding Fundraising Professional award. The award is given to an individual who has demonstrated exceptional leadership skills in coordinating groups of volunteers for major fund raising projects.

"Stephanie Judson is the consummate professional", said Doug Sharp, SDCF Board Chair. "Her leadership of the SDCF over these last many years has been very impactful in both increased name recognition and stature as well as an increase in assets. Stephanie's ability to make both an initial impression, as well as a lasting one is second to none. She is a friend first before she becomes a professional confidant that helps guide the philanthropic desires of families to make a lasting impact. Stephanie understands both the structure for estate savings as well as the best way to have an impact on the desired organizations of the donor. She has also worked with most of the other nonprofits in the state as a partner and a counselor, helping others achieve goals they have for their organizations and their benefactors. Stephanie is very deserving of all recognition she receives. She has been instrumental in turning the SDCF into the most impactful, quietly effective foundation in the state."
Stephanie became President and Chief Executive Officer of the South Dakota Community Foundation in January 2013, after holding various positions with the Foundation since 1997. Working directly with the Board of Directors, Stephanie executes the mission and vision of the SDCF for the good of our entire state.
She has been a champion of nonprofits and collaboration, participating in the organization and launch of a number of statewide initiatives designed to advance the mission of nonprofits and build capacity in our state. Some of these are the SD Nonprofit Network, South Dakota Gives, and the SD Nonprofit Capacity Building Program. She is part of the collaboration for the Build Dakota Scholarship Program and the recent Freedom Scholarship Program, South Dakota's need-based scholarship program.
Stephanie uses her skills as a Certified Financial Planner® and a Certified Gift Planning Associate to guide donors and nonprofits to the best planned giving option for them.

Stephanie is married to Matt and has two sons, Grant and Blake, both college students.
Learn more about this award and others here.