Safe Harbor Foundation Meets Challenge
November 11, 2020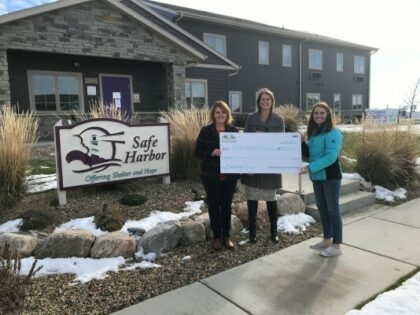 The Safe Harbor Foundation has received a $20,000 matching grant from the South Dakota Community Foundation (SDCF). The Safe Harbor Foundation recently completed a two-year challenge to raise $80,000 to earn the grant. Because of many donors and SDCF's matching grant, more than $100,000 is held in a permanent endowment at SDCF to provide perpetual benefit to Safe Harbor, an organization that serves victims of sexual and domestic violence. Funds will be invested over time, and earnings will create a long-term revenue source to support the organization.
"Thanks to many charitable individuals, we have met our initial goal. We are blessed to be part of a such a generous community, and we look forward to the support this will provide Safe Harbor for years to come. Schaunaman noted that support for the Purple Potty program contributed significantly to meeting the goal. The Safe Harbor Foundation accepted the challenge in October 2018."

Kelli Schaunaman, President of the Safe Harbor Foundation
Donations to the Safe Harbor Foundation are invested along with other SDCF endowed funds. A percentage of the fund's value is made available annually for the foundation board to distribute to support the mission of Safe Harbor. As the fund grows, so will the annual amount available to give back to the organization.
"We are proud to partner with the Safe Harbor Foundation to create a source of permanent funding for Safe Harbor. We congratulate everyone who was involved in helping them meet the challenge."

Patrick Gallagher, Community Development Coordinator for SDCF in Aberdeen
Safe Harbor Designated Fund

Provide financial support to Safe Harbor as designated by the donor.
Kelli Schaunaman, President
Matilda Grobe, Vice President
Joe Siebert, Treasurer
Carrie Cole, Secretary
Bea Smith
Danielle Oliver
Judon Reinbold
Kristie Martin
Kyle Walz
Laura Rosenbaum
Rhonda Hilsendeger
Stacey Lust
About this Nonprofit
Originally formed in 1977, Safe Harbor began as a volunteer phone service providing information to women. Soon it was evident the community needed more than just a source of information, especially for women in need of shelter in a crisis. Today Safe Harbor is dedicated to women, men and children who are victims of abuse in a seven-county region. The organization provides shelter, advocacy and support services while also educating and motivating the community to be proactive in eliminating abuse. Visit safeharborsd.org to learn more.
About the SDCF
SDCF is a public non-profit organization established in 1987. SDCF, with offices in Pierre, Rapid City, Sioux Falls and Aberdeen administers over 980 funds benefiting hundreds of charitable organizations annually. The Foundation distributed nearly $18 million in grants in 2019 which made a tremendous difference in communities statewide. This would not have been possible without the generosity of our donors. If you have a specific cause you would like to support or would prefer to give for the general good of our state, learn more about donating or call 1-800-888-1842.