Randy Franssens is Community Foundation Hometown Hero
January 1, 2022 //
Donors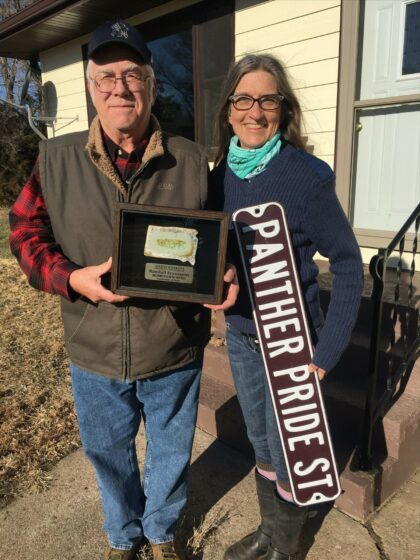 Randy Franssens was recently presented with the SDCF Hometown Hero award from Jeff Veltkamp, Director of Development. The SDCF is an organization that is "bringing philanthropy to life for a stronger South Dakota." With the help of the Foundation, Randy started the Franssens Family Cemetery Fund. Money is invested in the fund and interest money is returned to help take care of local cemeteries in the area. In the last three years, the fund has returned over $9,000 to the Platte community.
The Franssens family has been involved int eh care of cemeteries for many years. Randy's grandmother, Anna Luther Franssens, was very passionate about honoring our ancestors. She was a contributor to the Edgerton Cemetery. Randy's father Floyd and his uncle Dale Franssens and wife Bertha mowed and did maintenance of the Friesland Cemetery for many years. Cousin Kay Mushitz helps in different wasy with the Geddes Community Cemetery and cousin Becky Erickson takes pictures of all the tombstones in all local cemeteries (over 4,000) and lists them on "Find a Grave South Dakota".
Randy hopes that more individuals, organizations, churches, etc., will take more interest, monetarily or with physical help, in caring for both new and old cemeteries.