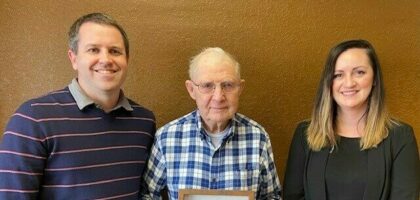 Parkston Area Foundation (PAF) advisory council members, Audrey and Mike Bowar and Jamie Farmen, South Dakota Community Foundation (SDCF) Community Development Coordinator had the honor of presenting Darrell 'Dean' Simmons of Parkston, SD with the Hometown Hero award.
No one knows a community better than those who call it HOME. Since 1987, the SDCF has had the privilege to work with generous people wanting to give their neighbors a better place to call HOME. Our Hometown Heroes are a special group of people with a passion for helping communities grow and thrive. They have played a vital role in strengthening the SDCF and the entire state of South Dakota by inspiring others to help improve the lives of others.
"Dean established the Darrell D. Simmons Scholarship Fund in 2012 as a sub fund of the PAF," said Mike Bowar, PAF President. "Since that time, the fund has been able to award $35,500 in scholarship money to local students. His generosity will make an impact on Parkston area youth for many, many years to come. We are so grateful to Dean for his giving spirit toward our community."
To learn how you can create your charitable legacy or to give to the PAF, please visit https://sdcommunityfoundation.org/for-donors/
Community Savings Account/SDCF Partnership
The Parkston Area Foundation was established by a local board of directors in partnership with the South Dakota Community Foundation (SDCF). Their goal was to create a long-term funding source for charitable causes in the local area. With careful investment, the fund will continue to grow and enhance quality of life in the local area forever. This fund is one of 80 community savings accounts in partnership with SDCF. Since inception, the CSA has granted over $230,600 toward charitable causes in the local area. To learn more about PAF, please visit http://parkstonareafoundation.com/
About SDCF
SDCF is a public non-profit organization established in 1987. SDCF, with offices in Pierre, Rapid City, Sioux Falls and Aberdeen administers over 1,050 funds benefiting hundreds of charitable organizations annually. The Foundation distributed nearly $20 million in grants in 2020 which made a tremendous difference in communities statewide. This would not have been possible without the generosity of our donors. If you have a specific cause you would like to support or would prefer to give for the general good of our state, please visit https://sdcommunityfoundation.org/for-donors/ to learn more or call 1-800-888-1842.