Because of many generous donations including significant gifts from Jim and Nini Hart and an anonymous couple, the Miller Area Foundation (MAF) recently exceeded its challenge to raise $70,000 for a match of $8,750 from the South Dakota Community Foundation (SDCF).
"We were fortunate to receive a very generous donation from the Harts to push us over the edge of meeting the challenge," said Dawn Joy, MAF President. "Because of this and the gifts of many generous donors, the MAF now exceeds $1 million in assets. The local community savings account (CSA) has granted nearly $600,000 for scholarships and charitable causes since inception. Thank you to all those who helped in meeting this challenge."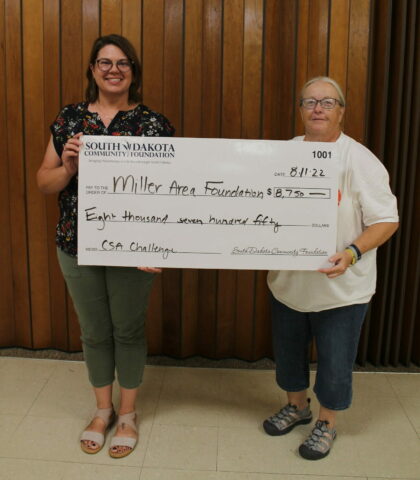 Donations to the MAF are invested along with other SDCF endowed funds. A percentage of the fund's value is made available annually for the local advisory council to distribute. As the fund grows, so does the annual amount available to give back to nonprofit groups making a difference.
Recent grants distributed include:
We Care Prayers & Squares Stitching Club
Hand County Health Wellness & Community Foundation-Backpack Buddies
Hand and Hand Daycare
Youth Baseball/Softball Organization
The Miller Area Foundation was established in 1994 by a local advisory council under Jim Hart with the South Dakota Community Foundation (SDCF). Their goal was to create a long-term funding source for charitable causes in the local area. With careful investment, the fund will continue to grow and enhance quality of life in the local area forever. This fund is one of 80 community savings accounts in partnership with SDCF. Since inception, the CSA has granted nearly $600,000 toward charitable causes. To learn more about the MAF, please visit https://www.sdcommunityfoundation.org/local-impact/community-foundations/miller
SDCF is a public non-profit organization established in 1987. SDCF, with offices in Pierre, Rapid City, Sioux Falls and Aberdeen administers over 1,100 funds benefiting hundreds of charitable organizations annually. The Foundation distributed approximately $18 million in grants in 2021 which made a tremendous difference in communities statewide. This would not have been possible without the generosity of our donors. If you have a specific cause you would like to support or would prefer to give for the general good of our state, please visit https://sdcommunityfoundation.org/giving to learn more or call 605.224.1025.