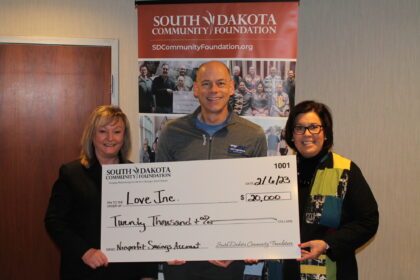 Love INC of the Black Hills recently completed fundraising $80,000 to establish a permanent endowment fund at the South Dakota Community Foundation (SDCF) and was awarded $20,000 in matching funds from SDCF's Nonprofit Savings Account grant program. Endowment funds are invested over time and earnings create a long-term revenue source to support the organization.
"I was blown away to see Love INC of the Black Hills' supporter's step forward so quickly in response to the Nonprofit Savings Account opportunity. Working with SDCF has been great and this is going to be such an important component to ensuring Love INC can continue to serve the Black Hills for years to come," says John Ligtenberg, Executive Director, Love INC of the Black Hills.
Since 2001, Love INC of the Black Hills has worked with partner churches to help people in need with basic resources, life education and mentoring. Love INC of the Black Hills currently serves the greater Rapid City, Sturgis, and Hill City communities.
"A lot of work goes into completing the fundraising for our NSA grant program, and Love INC of the Black Hills has certainly demonstrated their energy to sustain the work of their organization for the long haul," says Ginger Niemann, SDCF Senior Program Officer.
SDCF is a public non-profit organization established in 1987. SDCF, with offices in Pierre, Rapid City, Sioux Falls and Aberdeen administers 1,200 funds benefiting hundreds of charitable organizations annually. The Foundation distributed nearly $30 million in grants in 2022 which made a tremendous difference in communities statewide. This would not have been possible without the generosity of our donors. If you have a specific cause you would like to support or would prefer to give for the general good of our state, please visit https://sdcommunityfoundation.org/giving to learn more or call 1-800-888-1842.