The South Dakota Community Foundation (SDCF) was pleased to partner with the town of Pollock. SDCF awarded them with a $5,000 South Dakota Fund grant. Funds provided support for upgrading the sound system in Pollock's Community Center.

"The generosity of the South Dakota Community Foundation will enhance the quality-of-life enjoyment at the Pollock Community Center," said Andrew Van Kuren, Director, Campbell County Economic Development. "It will enable more functions to take place at the Community Center which enriches the lives of Pollock residents and those within the Pollock region."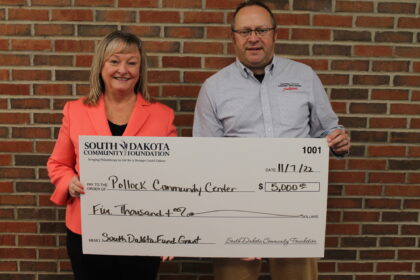 The town of Pollock was founded in 1901 and later relocated one mile up the hill from its original site in 1955 due to necessity. The original townsite was flooded when the U.S. Army Corp of Engineers decided to build a dam on the Missouri River. This created what is now known as Lake Oahe. The Town of Pollock's Community Center used to be the Pollock Public School. Once it closed, residents made good use of the building housing several businesses there as well as using the former gymnasium for large gatherings and events.
"The town of Pollock has proven its resiliency time and time again," stated Ginger Niemann, Senior Program Officer, SDCF. "We are proud to play a small role in supporting their efforts to ensure their community remains vibrant."
To learn more about funding opportunities offered by the SDCF, please visit our website at https://www.sdcommunityfoundation.org/
About the SDCF
SDCF is a public non-profit organization established in 1987. SDCF, with offices in Pierre, Rapid City, Sioux Falls and Aberdeen administers over 1,100 funds benefiting hundreds of charitable organizations annually. The Foundation distributed nearly $18 million in grants in 2021 which made a tremendous difference in communities statewide. This would not have been possible without the generosity of our donors. If you have a specific cause you would like to support or would prefer to give for the general good of our state, please visit https://sdcommunityfoundation.org/giving to learn more or call 1-800-888-1842.