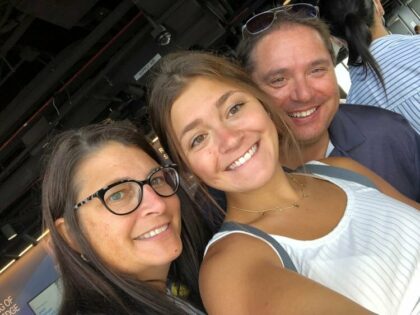 Kelly Nelson has served as program accountant and scholarship coordinator for the South Dakota Community Foundation (SDCF) since 2004. Kelly is an important piece of our work world. Organized and hard working, you can always count on her to get the job done. She enjoys being part of connecting high school graduates with funds needed to continue their education.

Kelly's lived in Central South Dakota for most of her life growing up on a family ranch west of Pierre with parents, Clark and Carmen Alleman and brother, Clint. She currently lives in Pierre with her husband, Anthony, and their daughter Morgan.
Just recently, Kelly started to share her story of living with Polycystic Kidney Disease (PKD) as she is looking for a kidney donor. In 1996, she was diagnosed. This is an inherited disorder in which over time, cluster of cysts form in the kidney leading to loss of kidney function. Her father had PKD and received a living donor transplant.
Once she learned she had PKD, Kelly volunteered to be part of several research studies to further the understanding of the condition. Currently, there is no cure for PKD. There have been advances in slowing the progression of the cysts, but the end treatment is either dialysis or a kidney transplant.
In the past month or so, Kelly was placed on the national donor wait list and will be listed at multiple transplant centers in the Midwest. The average wait time for a deceased donor is over five years. There is no telling when Kelly will get the call, but she's decided to start her own search for a living kidney donor.

Asking family and friends to consider donating a kidney is difficult, but it greatly improves her chances of receiving a kidney transplant, either through direct donation or through the paired donation process.
Kelly has been a dedicated employee of SDCF for many years as well as a trusted friend in our office. Please consider learning more about living donation.