The South Dakota Community Foundation (SDCF) recently awarded Simply Smiles, Inc. with a $18,508 South Dakota Fund grant. Funds will provide partial support for the procurement and installation of a whole-site backup power generator for the Simply Smiles Children's Village.
"The Simply Smiles Children's Village is a first-of-its-kind community of foster homes for Native American children," stated Bryan Nurnberger, President & Founder, Simply Smiles Inc. "Thanks to the generosity of the South Dakota Community Foundation, the children in our care now have the security of a whole-site backup power generator, keeping them safe and on the path to their brightest futures. Thank you!"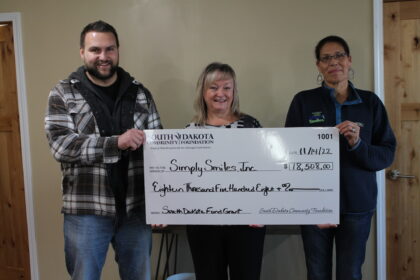 Founded in 2003, this organization manages Simply Smiles Children's Villages for Native/Indigenous children in Oaxaca, Mexico and on the Cheyenne River Sioux Tribe Reservation in South Dakota. Phase 1 construction of the Simply Smiles Children's Village on the Cheyenne River Sioux Tribe Reservation near LaPlant has been completed. A $2.5 million facility features 3 foster homes and a dedicated mental health space. Opening in the fall of 2022, the current capacity is for 18 foster children. Phase II construction (2025) will increase capacity to 6 foster homes and up to 36 children in care. The Simply Smiles Children's Village team includes professional foster parents, counselors, and a village director. This nonprofit works closely with the Department of Social Services, the Cheyenne River Tribal Council, and police along with many other organizations on the reservation and off. They provide the necessary training for foster parents.
"The safety of the foster families living in the Village homes is a top priority," said Ginger Niemann, Senior Program Officer, SDCF. "Located in a remote area, the Village will be exposed to extreme weather and frequent power outages. A generator is a necessity. We are proud to play a small role in making sure that they have one."
To learn more about funding opportunities offered by the SDCF, please visit our website at https://www.sdcommunityfoundation.org/
About the SDCF
SDCF is a public non-profit organization established in 1987. SDCF, with offices in Pierre, Rapid City, Sioux Falls and Aberdeen administers over 1,100 funds benefiting hundreds of charitable organizations annually. The Foundation distributed nearly $18 million in grants in 2021 which made a tremendous difference in communities statewide. This would not have been possible without the generosity of our donors. If you have a specific cause you would like to support or would prefer to give for the general good of our state, please visit https://sdcommunityfoundation.org/giving to learn more or call 1-800-888-1842.