Hometown Hero Award Presented to Cheyenne River Youth Project
November 14, 2022

The South Dakota Community Foundation (SDCF) recently recognized the Cheyenne River Youth Project (CRYP) with a Hometown Hero Award for their ongoing community-building work in Eagle Butte and the greater Lakota Nation of the Cheyenne River Sioux Tribe. SDCF's Hometown Hero Award recognizes a special group of people and organizations with a passion for helping their community grow and thrive.
"On Nov. 14, we were deeply honored to receive a 'Hometown Hero' award from the South Dakota Community Foundation," said Julie Garreau, CRYP's executive director. "Having our work recognized in this way means so much to us, especially since SDCF gave us our first grant more than three decades ago — when both of our organizations were just a few years old. They took a chance on us back then, and our gathering this week felt like coming full circle. We are profoundly grateful for this very special partnership."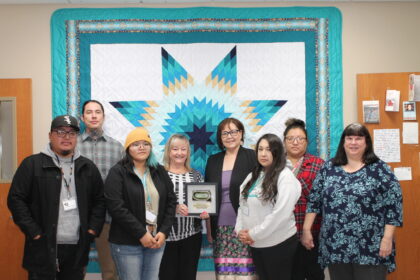 Founded in 1988, the Cheyenne River Youth Project is a grassroots, Native- and woman-led nonprofit organization dedicated to providing Lakota youth with access to a vibrant and more secure future. At the heart of the organization's innovative, culturally relevant work is Wólakȟota, a sacred way of life for the Cheyenne River community.
The Cheyenne River Youth Project is a well-rounded service organization that is dedicated to its participants' physical, emotional, mental and spiritual wellness. Its current 5-acre campus in Eagle Butte serves students ages 4-18. The organization serves the community by offering safe and healthy spaces, fostering healthy choices and life practices, strengthening connections to Lakota culture, teaching valuable job and life skills, and creating opportunities for a more vibrant and secure future.
Ginger Niemann, SDCF Senior Program Officer, presented the Hometown Hero award to the Cheyenne River Youth Project in November. "The CRYP is making a difference in youth every day, thanks to the leadership of Julie and a committed staff," said Ginger Niemann, SDCF's senior program officer. "It was a great pleasure to present this award to them and recognize the impact they are making."
To learn more about the work of the Cheyenne River Youth Project, please visit their website at https://lakotayouth.org/
To learn more about funding opportunities offered by the SDCF, please visit our website at https://www.sdcommunityfoundation.org/
About the SDCF
SDCF is a public non-profit organization established in 1987. SDCF, with offices in Pierre, Rapid City, Sioux Falls and Aberdeen administers over 1,100 funds benefiting hundreds of charitable organizations annually. The Foundation distributed nearly $18 million in grants in 2021 which made a tremendous difference in communities statewide. This would not have been possible without the generosity of our donors. If you have a specific cause you would like to support or would prefer to give for the general good of our state, please visit https://sdcommunityfoundation.org/giving to learn more or call 1-800-888-1842.