The South Dakota Community Foundation (SDCF) recently awarded the Brookings Area Chamber of Commerce a $20,000 South Dakota Fund grant. Funds will go towards a required match request from Vision Brookings.
"In our ever-changing business climate, it's important to ask questions, listen and be willing to evolve based on what we learn," stated Kelsey Doom, President & CEO, Brookings Area Chamber of Commerce. "We are appreciative the South Dakota Community Foundation saw value in our idea and was willing to invest to accelerate our success."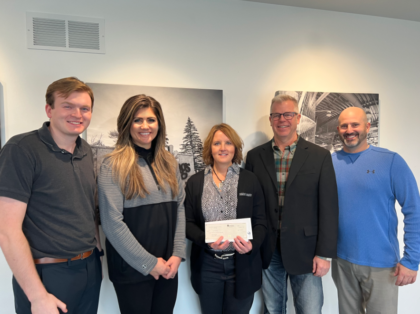 The Brookings Area Chamber of Commerce was incorporated in 1938. Projects and programming are provided through nine committees. The proposed initiative would involve a re-brand of one of these existing committees, Connect 2140, to become "Connect Brookings," as well as a re-focus of efforts within the Business Resource Committee., to form the new committee "Connect Brookings".
The largest issue the Chamber sees their membership facing is lack of workforce. "Connect Brookings" will prepare SDSU students to enter the workforce after college, broaden access of regional industry leaders to SDSU students, empower young professionals to serve in leadership capacities wherever they live and work, and develop a system to assist in new resident and student retention.
"These funds will allow Chamber staff to focus on program development instead of fundraising in its first year," said Ginger Niemann, Senior Program Officer, SDCF. "Workforce shortage is a statewide problem. Any break throughs in addressing this issue will not only help the Brookings area; but could result in replication statewide."
To learn more about funding opportunities offered by the SDCF, please visit our website at https://www.sdcommunityfoundation.org/
About the SDCF
SDCF is a public non-profit organization established in 1987. SDCF, with offices in Pierre, Rapid City, Sioux Falls and Aberdeen administers over 1,100 funds benefiting hundreds of charitable organizations annually. The Foundation distributed nearly $18 million in grants in 2021 which made a tremendous difference in communities statewide. This would not have been possible without the generosity of our donors. If you have a specific cause you would like to support or would prefer to give for the general good of our state, please visit https://sdcommunityfoundation.org/giving to learn more or call 1-800-888-1842.