"The SDCF is proud to provide support for these four Sioux Falls area South Dakota nonprofits. Each nonprofit is distinct and unique with their own vision and goals. However, they are all united in working towards making their programs and our state excel."

Ginger Niemann, Senior Program Officer, SDCF
Four Sioux Falls area nonprofits were the beneficiaries of recent grant awards from the South Dakota Community Foundation (SDCF). Four area nonprofits received awards through the South Dakota Fund Grant. The City of Canistota, the Naomi Project, and SHIFT Garage each received $10,000. Children's Home Society of South Dakota was awarded $40,000.
The South Dakota Fund is an unrestricted fund that makes grants in support of culture, economic development, education, financial literacy, health, and human services. The four area nonprofits receiving South Dakota Fund grant awards are:
Children's Home Society of South Dakota- $40,000
Children's Home Society of South Dakota (CHS) acquired the Children's Inn through a 1998 merger. Funds will be used for partial support of installation of a state-of-the-art security system for a new 46,000 square foot facility that is being built.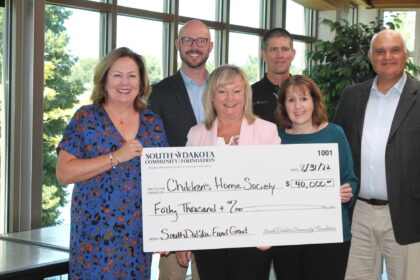 "We are very grateful for the wonderful gift from the South Dakota Community Foundation to support our emergency shelter work", declared Michelle Lavallee, CEO, Children's Home Society. "This gift will be a terrific help as we move from our current 40-bed capacity to a new 96-bed facility in mid-November. We are committed to never turning anyone away who is not safe due to domestic violence and/or child abuse."
City of Canistota- $10,000
Stalting Park in Canistota was vacant and undeveloped until 2021 when the City of Canistota partnered with The Wellmark Foundation and Xcel Energy to construct a pickleball court. In the winter of 2021, the Council voted to approve the purchase of an ice-skating rink to be installed on top of the pickle ball court. This grant award will support further improvements for the Park.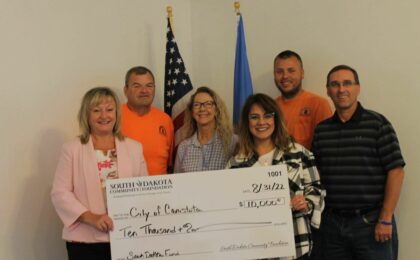 "The generous grant from the South Dakota Community Foundation will assist the City of Canistota with the construction of our proposed picnic shelter/warming house in Stalting Park", said Justin Engbarth, Mayor, City of Canistota. "The City looks forward to partnering with the South Dakota Community Foundation to promote both physical and social interaction for our community year-round. Thank you for your support as the City of Canistota strives to offer big city amenities to our small-town residents. We appreciate your support of our community."
Naomi Project - $10,000
Funds requested will help the Naomi Project expand and enhance their outreach to survivors of labor trafficking in rural communities where immigrant workers in restaurants, agriculture, and construction are more isolated and vulnerable.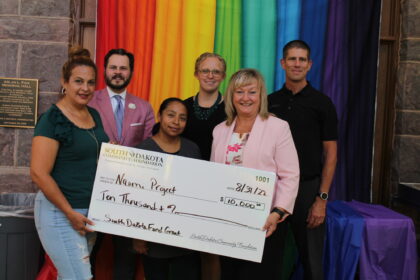 "This grant from the South Dakota Community Foundation will enable the Naomi Project to reach more vulnerable people in rural areas and screen these people for indicators of trafficking", stated Jordan Bruxvoort, Director, Naomi Project. "As new survivors are identified, we will support these people with food and rent, access to medical care, and legal representation. We will also partner with law enforcement to hold accountable those responsible and create a safer South Dakota for everyone!"
SHIFT Garage- $10,000
SHIFT Garage, with locations in both Sioux Falls and Rapid City, focuses on repairing and maintaining vehicles for people who cannot afford traditional repair shops. The SHIFT Garage in Sioux Falls opened in September of 2021. Dollars awarded will provide partial support for the purchase of a tow truck for their Sioux Falls garage.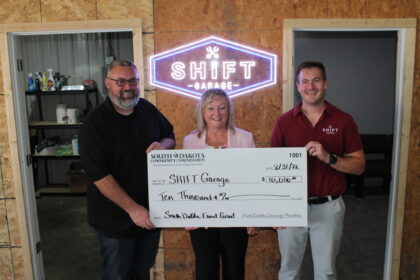 "A truck has so many benefits for our shop", declared Joe Smith, Director, SHIFT Garage. "Not only can we save people money by towing repair vehicles, but now we have access to donated vehicles that need tows, helping us generate funds that keep us going. A tow truck can last years, so this gift will continue to bless the community for years to come."
The SDCF awards grants throughout the year through the South Dakota Fund to nonprofits that meet vital and diverse needs across the state. Interested applicants can learn more by visiting https://sdcommunityfoundation.org/for-nonprofits/sd-fund-grants/
About the SDCF
SDCF is a public non-profit organization established in 1987. SDCF, with offices in Pierre, Rapid City, Sioux Falls and Aberdeen administers over 1,100 funds benefiting hundreds of charitable organizations annually. The Foundation distributed nearly $18 million in grants in 2021 which made a tremendous difference in communities statewide. This would not have been possible without the generosity of our donors. If you have a specific cause you would like to support or would prefer to give for the general good of our state, please visit https://sdcommunityfoundation.org/giving to learn more or call 1-800-888-1842.