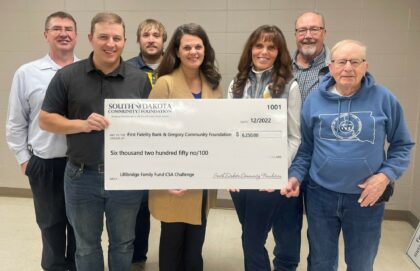 The First Fidelity Bank & Gregory Community Foundation has received a $6,250 matching grant from the South Dakota Community Foundation (SDCF) after raising over $50,000 from generous donors.
$6,250 was matched from the Lillibridge Family Fund held at the SDCF. Nearly $330,000 is permanently held at SDCF for the benefit of charitable causes in the Gregory area. The fund has granted over $230,000 to local nonprofits since its inception in 1995.
"We are grateful for the generosity of the Lillibridge family and SDCF for this opportunity to share the impact of this local foundation with our donors," said Gregg Drees, President of the Gregory Community Foundation. "Thank you to everyone who supported us through contributions. Because of your giving spirit, this foundation will give back to worthy causes in our area for years to come."
Rescues Unlimited
City of Gregory
Paxton Church
Gregory Historical Society
Avera McKennan Foundation
Gregory Horizons Community Development Corporation
Gregory American Legion
Dixon Town Hall
"We are proud to partner with the Gregory Community Foundation to create a sustainable funding source for nonprofit organizations," said Jamie Farmen, SDCF Community Development Coordinator. "This fund will continue to provide a vehicle for current, past and future residents of the community to give back to local causes."
The fund is a permanent endowment with SDCF and is overseen by a local advisory council. Donations to the Gregory Community Foundation will be invested along with other SDCF endowed funds. A percentage of the fund's value is made available annually for the local advisory council to distribute to charitable and nonprofit causes in the area. As the fund grows, so will the annual amount available to give back to nonprofit groups making a difference in the community.
Advisory Council

Gregory Community Foundation
Gregg Drees, President
Emmett Kortba, Secretary
Sam Flakus, Treasurer
Sue Hogue
Jeff Johnson
Rhonda Waterbury
Kevin Myrmoe
Mark Braun
Bringing philanthropy to life for a stronger South Dakota.
The First Fidelity Bank & Gregory Community Foundation was established in 1995 when the First Fidelity Bank, through the Lillibridge Foundation, issued a challenge for the community to match $50,000. The grant was matched and the Trust Fund from Dr. Vogelsang was combined with the Foundation fund. The ongoing goal of the local foundation is to create a long-term funding source for charitable causes in the Gregory area. With careful investment, the fund will continue to grow and enhance quality of life in the local area forever. This fund is one of 84 community savings accounts in partnership with SDCF. To learn more or donate, please visit https://www.sdcommunityfoundation.org/local-impact/community-foundations/gregory
SDCF is a public non-profit organization established in 1987. SDCF, with offices in Pierre, Rapid City, Sioux Falls and Aberdeen administers 1,200 funds benefiting hundreds of charitable organizations annually. The Foundation distributed nearly $30 million in grants in 2022 which made a tremendous difference in communities statewide. This would not have been possible without the generosity of our donors. If you have a specific cause you would like to support or would prefer to give for the general good of our state, please visit https://sdcommunityfoundation.org/giving to learn more or call 1-800-888-1842.
To learn more or donate to the Gregory Community Foundation, please click here.