To celebrate one and a half centuries in the banking business, First Dakota National Bank is partnering with the South Dakota Community Foundation (SDCF) to give back to South Dakota communities that have given much to them.
"SDCF's mission is to bring philanthropy to life for a stronger state," said Jeff Veltkamp, SDCF Director of Development. "We're excited to partner with First Dakota in giving back to South Dakota communities that have provided them with so much success."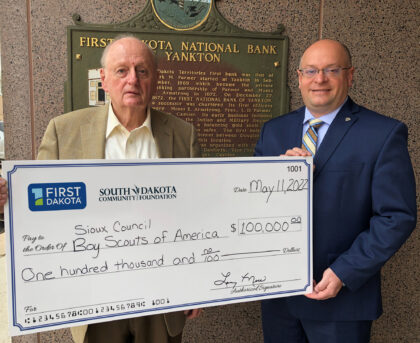 First Dakota established the Stronger Communities Fund with SDCF to help South Dakota communities thrive and prosper, regardless of their size, resources or history. One of the ways First Dakota grows the fund is through sales of their 150th anniversary beers. For every can or glass of Dakota Thirst & Cash Flow purchased this year, First Dakota is donating $1 to the fund.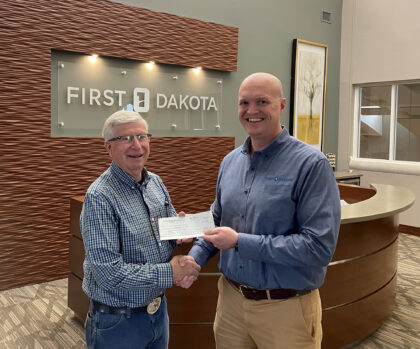 "Since 1872, First Dakota has called South Dakota home," said Rob Stephenson, President of First Dakota National Bank. "Our commitment to the region runs deep. This fund is one of the ways we give back to the people, organizations and communities that make this such a fantastic place to live and grow."
The first round of grants distributed in April totaled $360,500. Recipients included:
City of Elk Point
Habitat for Humanity of Clay and Yankton Counties
Letcher Community Development Foundation
Sioux Council Boy Scouts of America
South Dakota State Fair Foundation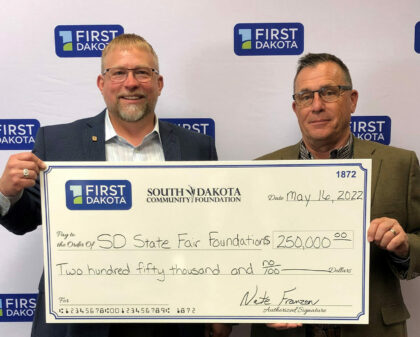 First Dakota National Bank became the first fully chartered bank in the Dakota Territory when it opened its doors in 1872. For 150 years, the organization sought to support local dreams and communities with dependable banking.
Upcoming deadlines for grant applications are June 30th, September 30th and December 31st. Applications are reviewed quarterly, and if approved, awards will be granted within six weeks of application deadlines. Anyone can apply, but priority will be given to those communities with a First Dakota presence.
Learn more about the Stronger Communities Fund and how to apply here: https://www.firstdakota.com/150
First Dakota National Bank began in 1872 when it became the first fully chartered bank in the Dakota Territory. Located in Yankton, First Dakota grew steadily as it served the needs of settlers, the river traffic, and the flourishing businesses.
Today, First Dakota National Bank has grown to a network of 18 full service and five loan production offices with assets over $2.45 billion. First Dakota delivers a complete array of banking, investment, and trust services to individuals, businesses and ag customers.
SDCF is a public non-profit organization established in 1987. SDCF, with offices in Pierre, Rapid City, Sioux Falls and Aberdeen administers over 1,100 funds benefiting hundreds of charitable organizations annually. The Foundation distributed nearly $18 million in grants in 2021 which made a tremendous difference in communities statewide. This would not have been possible without the generosity of our donors. If you have a specific cause you would like to support or would prefer to give for the general good of our state, please visit https://www.sdcommunityfoundation.org/giving to learn more or call 1-800-888-1842.