"It is heartening to see so many nonprofits stepping up to the challenge and helping wherever they can.""

Ginger Niemann, Senior Program Officer, SDCF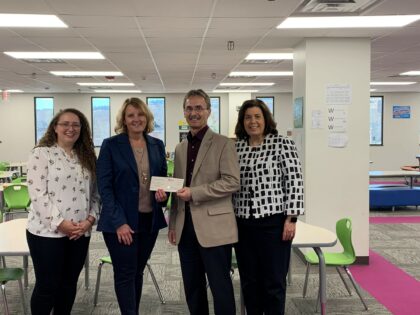 Since the beginning of this school year, the YMCA of Rapid City has been addressing the gap in education caused by mixed in-person and e-learning resulting from the Rapid City Area Schools COVID-19 school closures. The YMCA provides out-of-school time programming for students on Fridays while Rapid City Area Schools (RCAS) are at level 1 and provides programming when the RCAS plan calls for level 2 or level 3. Since the YMCA out-of-school time programming includes work with students on e-learning, the YMCA has hired an e-learning coordinator to train staff and work with students while navigating the e-learning requirements through the Rapid City Area Schools Pandemic Response Plan.
The South Dakota Community Foundation (SDCF) was pleased to provide a $15,000 South Dakota Fund grant to the Rapid City YMCA. This grant will assist with the costs of an e-learning coordinator.
"We are so grateful for this support from the South Dakota Community Foundation which enables our YMCA to meet the ever-changing needs of students as they navigate online and remote learning throughout this challenging school year", said Roger Gallimore, Executive Director, YMCA.
"Students, families and schools have all been put to the test during this pandemic", said Ginger Niemann, Senior Program Officer, SDCF. "It is heartening to see so many nonprofits stepping up to the challenge and helping wherever they can."
In response to the pandemic, SDCF's Board of Directors established the Coronavirus Response Fund to directly support the needs of communities and nonprofits affected by COVID-19. This fund addresses immediate needs including access to food, shortage of volunteers, healthcare sector support and human services sector support. Donations are being accepted. If you would like to lend your support to those who continue to be impacted by this virus, or just learn more, please visit sdcommunityfoundation.org. Donations can be made on-line or checks may be directed to SDCF, PO Box 296, Pierre, SD 57501. One hundred percent of donations made to the SDCF Coronavirus Fund go directly to those in need throughout our state.
About the SDCF
SDCF is a public non-profit organization established in 1987. SDCF, with offices in Pierre, Rapid City, Sioux Falls and Aberdeen administers over 1050 funds benefiting hundreds of charitable organizations annually. The Foundation distributed nearly $18 million in grants in 2020 which made a tremendous difference in communities statewide. This would not have been possible without the generosity of our donors. If you have a specific cause you would like to support or would prefer to give for the general good of our state, please visit https://sdcommunityfoundation.org/giving to learn more or call 1-800-888-1842.