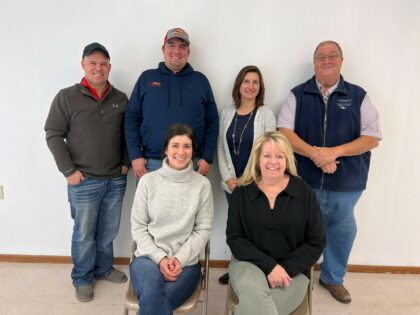 Photo courtesy of Christian Begeman
Because of the generosity of former residents, Jim and Janice Clarkson, the Harding County Community Foundation was established in November 2022 with a generous $100,000 challenge gift. The communities in the county will work to raise funds of $100,000, which will then be matched with an additional $50,000 from the South Dakota Community Foundation (SDCF). The Harding County Community Foundation will be the 82nd Community Savings Account (CSA) managed by the SDCF across the state of South Dakota.
"Our entire advisory council is grateful for Jim and Janice's gift to the communities of Harding County," Billy Clanton, Harding County Community Foundation Advisory Council Member said. "Keeping small communities thriving is no easy task. The Clarksons' donation combined with a $100,000 that we need to raise to match their donation, will help Harding County prosper for generations to come."Funds raised will be invested with the SDCF and a percentage of the permanent funds will be made available each year for local projects and programs. The CSA will have its own local advisory council to raise funds and make grant decisions. The funds raised will stay within Harding County to benefit various projects throughout the entire county.
When asked about their motivation behind establishing the endowment Jim Clarkson said, "Harding County has been good to both Janice and me. We felt this would be a way to give back to the place we called home nearly all of our lives."
Residents from throughout the county serve as advisory council members, including Billy Clanton, Kelli Doll, Sam Olson, Jim Erk, Tracy Brown, Sam Cordell and Sydney Turbiville. These members will make grant distributions to nonprofit organizations meeting the needs of the area. "After learning about all the great projects other South Dakota Communities have done, I'm excited to see the long-term impact a community savings account will have in Harding County," said advisory council member Sam Cordell.
Advisory council member Billy Clanton said, "What I like most about a community savings account is its ability to cast a wide net, whether it be for healthcare, youth organizations or public safety, there is always a need for a small community like Harding County. I expect it will have an immediate positive impact."
Community members can give cash, commodities, land, stocks and bonds, estate gifts and insurance proceeds. Any donations made to CSAs are tax deductible. There are some unique ways to contribute to the fund. When Faith, South Dakota raised money for its community foundation several years ago, some residents' cattle sale proceeds were given to the Faith Area Community Foundation.
Click here to visit the Harding Co. Community Foundation site or contact the advisory council members.