The South Dakota Community Foundation (SDCF) recently awarded the South Dakota Afterschool Network (SDAN) with a $99,645 Beyond Idea Grant (BIG). Offered in partnership with the Bush Foundation, the Beyond Idea Grant program supports innovative, community-based, problem-solving efforts.
"The SDCF BIG grant will allow the SDAN to build and implement the state's first Out of School Time (OST) program quality standards," says Billy Mawhiney, SDAN Executive Director. "As one of only 10 states without a set of guidelines for these vital programs, we aim to provide afterschool and summer programs across the state a road map to program best practices elevating quality resulting in positive youth outcomes. By giving programs the capacity-building tools to self-assess, track outcomes and implement quality improvements we will be laying the foundation for programs to raise the bar year after year and effectively support youth, families and communities for generations."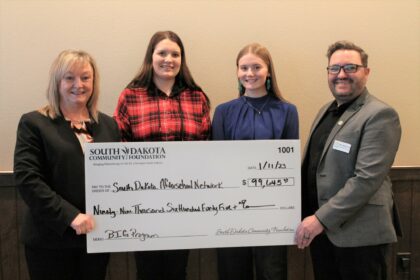 The South Dakota Afterschool Network promotes afterschool programs, advocates public policy on behalf of afterschool programs, and encourages high quality in afterschool programs across South Dakota. Funding from the BIG grant will support the development and creation of best practice standards for afterschool programs in South Dakota. SDAN will engage partners to build the core elements of a comprehensive quality system for programs. They will develop best practice standards and a program self-assessment tool aligned with the standards.
"SDAN is doing impressive work across the state," says Ginger Niemann, SDCF Senior Program Officer. "We're looking forward to how the best practices developed will serve students across the state."
A total of $1.2 million will be available to nonprofits in 2023 through the Beyond Idea Grant program.
SDCF is a public non-profit organization established in 1987. SDCF, with offices in Pierre, Rapid City, Sioux Falls and Aberdeen administers 1,200 funds benefiting hundreds of charitable organizations annually. The Foundation distributed nearly $30 million in grants in 2022 which made a tremendous difference in communities statewide. This would not have been possible without the generosity of our donors. If you have a specific cause you would like to support or would prefer to give for the general good of our state, please visit https://sdcommunityfoundation.org/giving to learn more or call 1-800-888-1842.
The Bush Foundation invests in great ideas and the people who power them. Established in 1953 by 3M Executive Archibald Bush and his wife Edyth, the Foundation encourages individuals and organizations to think bigger and think differently about what is possible in communities across Minnesota, North Dakota, South Dakota and the 23 Native nations that share the same geographic area.