The South Dakota Community Foundation (SDCF) recently awarded Black Hills Area Habitat for Humanity with a $50,000 Beyond Idea Grant (BIG) as the group looks for innovative solutions in the delivery of affordable home ownership in South Dakota. Offered in partnership with the Bush Foundation, the BIG program supports innovative, community-based, problem-solving efforts.
"SDCF is a key partner in helping the South Dakota Habitat for Humanity housing network in ten locations expand our housing impact," says Scott Engmann, Executive Director, Black Hills Area Habitat for Humanity. "In a resource stretched environment, the SDCF BIG funding will help us increase our efficiency in collaborating and leveraging our strengths in order to do more with less. The timing of this support could not be better!"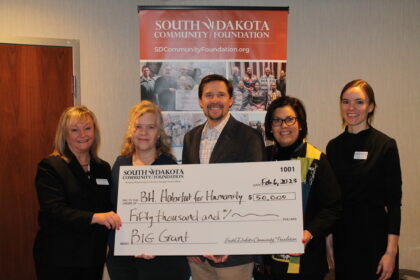 Black Hills Area Habitat for Humanity was founded in 1990 as an affiliate of Habitat for Humanity and provides qualifying families with the opportunity to partner with Habitat to achieve decent, affordable housing. The Black Hills group will collaborate between South Dakota Habitat affiliates across the state to assist in determining what can be done to increase the organization's impact given the challenges of inflation and a resource stretched environment.
"Housing is one of the most pressing issues in our state," says Ginger Niemann, SDCF Senior Program Officer. "We're glad to support the Black Hills Area Habitat for Humanity as they conduct a deep dive to improve their impact across the state."
A total of $1.2 million will be available to nonprofits in 2023 through the Beyond Idea Grant program. To learn more about funding opportunities offered by the SDCF, please visit our website at https://www.sdcommunityfoundation.org/
SDCF is a public non-profit organization established in 1987. SDCF, with offices in Pierre, Rapid City, Sioux Falls and Aberdeen administers 1,200 funds benefiting hundreds of charitable organizations annually. The Foundation distributed nearly $30 million in grants in 2022 which made a tremendous difference in communities statewide. This would not have been possible without the generosity of our donors. If you have a specific cause you would like to support or would prefer to give for the general good of our state, please visit https://sdcommunityfoundation.org/giving to learn more or call 1-800-888-1842.
The Bush Foundation invests in great ideas and the people who power them. Established in 1953 by 3M Executive Archibald Bush and his wife Edyth, the Foundation encourages individuals and organizations to think bigger and think differently about what is possible in communities across Minnesota, North Dakota, South Dakota and the 23 Native nations that share the same geographic area.