The South Dakota Community Foundation (SDCF) recently awarded Aberdeen Development Corporation with a $26,500 Beyond Idea Grant (BIG) to support the development of a workforce training initiative that would connect remote-able businesses with employees in rural communities. Offered in partnership with the Bush Foundation, the BIG program supports innovative, community-based, problem-solving efforts.
"One of the key missions of the Aberdeen Development Corporation is to enhance the workforce of Aberdeen and our region and this grant will assist in that effort. The grant will test a concept to develop a culture of scalable training and education, recognizing the importance of an accessible and a cohesive pathway to success for current and future residents," says Michael Bockorny, Aberdeen Development Corporation CEO. "By building a visible training and education program for both employees and employers on being remote able ready, we will test and learn the 'how-to' of this initiative." We are very thankful to the SDCF for funding this pilot program and we look forward to the results of the program."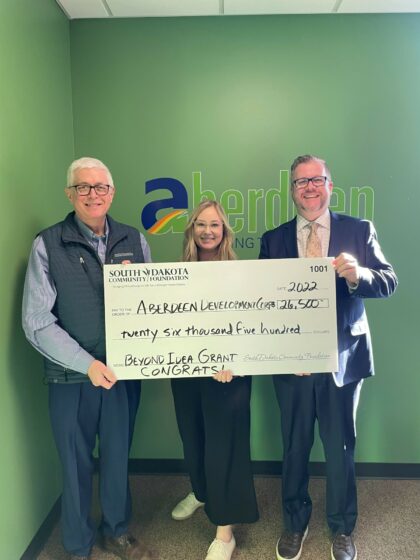 With BIG program funding, Aberdeen Development Corporation aims to develop a training program in order to prepare business owners and entrepreneurs to grow their remote workforce. The project will intentionally train prospective employees and employers in tech skills and remote-able best practices. The project plans to create quality work in remote communities and addressing the severe workforce challenge in the counties of McPherson, Edmunds, Faulk, Spink, Marshall, Day and Roberts.
"As the Aberdeen Development Corporation looks into expanding work opportunities to rural communities, we're interested in seeing what this group learns," says Ginger Niemann, SDCF Senior Program Officer.
A total of $1.2 million will be available to nonprofits in 2023 through the Beyond Idea Grant program. To learn more about funding opportunities offered by the SDCF, please visit our website at https://www.sdcommunityfoundation.org/
SDCF is a public non-profit organization established in 1987. SDCF, with offices in Pierre, Rapid City, Sioux Falls and Aberdeen administers 1,200 funds benefiting hundreds of charitable organizations annually. The Foundation distributed nearly $30 million in grants in 2022 which made a tremendous difference in communities statewide. This would not have been possible without the generosity of our donors. If you have a specific cause you would like to support or would prefer to give for the general good of our state, please visit https://sdcommunityfoundation.org/giving to learn more or call 1-800-888-1842.
The Bush Foundation invests in great ideas and the people who power them. Established in 1953 by 3M Executive Archibald Bush and his wife Edyth, the Foundation encourages individuals and organizations to think bigger and think differently about what is possible in communities across Minnesota, North Dakota, South Dakota and the 23 Native nations that share the same geographic area.