The South Dakota Community Foundation (SDCF) recently awarded Herreid Area Housing Development, Inc. with a $20,000 South Dakota Fund grant. Funds will support improvements to the public pool in Herreid, which is the only swimming pool in Campbell County.
"The South Dakota Community Foundation grant is greatly appreciated to assist the city of Herreid in updating our 60-year-old swimming pool. The Herreid pool facility is the only swimming pool in the county, and these pool improvements will definitely enhance the summer quality of life opportunities for our area residents and visitors," says Dick Werner, Herreid Area Housing Development President.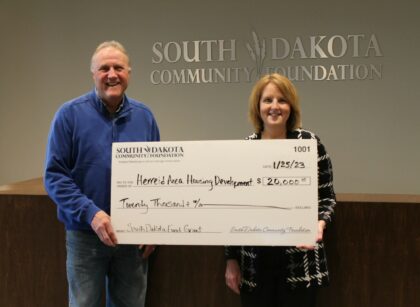 The Herreid Area Housing Development, Inc. was organized in September 2016 as a nonprofit with the mission and goal of upgrading, enhancing, and developing area workforce housing and quality of life facilities. The Herreid Pool was opened in 1963. An engineering firm out of Sioux Falls completed an extensive study of the pool facility in 2020 which noted numerous safety and structural concerns of the aging pool facility. The Herreid City Council agreed to pursue improving the pool facility and to work with the community for financial and grant support.
"We are proud to provide grant support to this effort to improve the pool in Herreid," says Ginger Niemann, SDCF Senior Program Officer. "The improvements are needed and will benefit many in the community."
About the SDCF
SDCF is a public non-profit organization established in 1987. SDCF, with offices in Pierre, Rapid City, Sioux Falls and Aberdeen administers 1,200 funds benefiting hundreds of charitable organizations annually. The Foundation distributed nearly $30 million in grants in 2022 which made a tremendous difference in communities statewide. This would not have been possible without the generosity of our donors. If you have a specific cause you would like to support or would prefer to give for the general good of our state, please visit https://sdcommunityfoundation.org/giving to learn more or call 1-800-888-1842.