The South Dakota Community Foundation (SDCF) recently awarded a $20,000 South Dakota Fund grant to The Keya Foundation to support the continued work of the Cheyenne River Sioux Tribe (CRST) Communities that Care (CTC) Coalition.
"CRST Communities That Care Coalition is very excited to partner with the Keya Foundation on the grant from the South Dakota Community Foundation," says Jaylynn Faree, CTC Coordinator. "These funds will be used to continue our work for the youth in the community with outreach, education, and prevention efforts."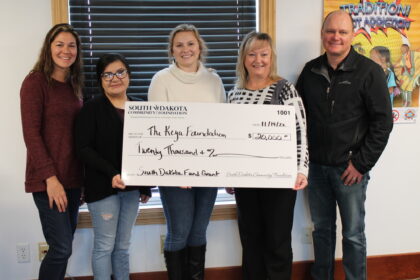 The vision statement of the CRST CTC Coalition is, "Cheyenne River is a community where are youth are healthy, culturally grounded, confident in their identity, and equipped with the fundamental skills for success in life." The mission of The Keya Foundation is to build organizational partnerships in underserved communities, and to provide education on cultural renewal and social health to individuals and families. By providing this knowledge and support, The Keya Foundation is contributing to a future of health, endurance, longevity and protection for the people of the CRST community. Their plan addresses community-specific risk and protective factors based on assessment of 6-12 graders attending both Cheyenne-Eagle Butte and Windswept Academy school systems.
"The SDCF was eager to support the work being done by the CTC Coalition, in partnership with The Keya Foundation," says Ginger Niemann, SDCF Senior Program Officer. "We wish them success in their continued support of youth in Eagle Butte and beyond."
To learn more about funding opportunities offered by the SDCF, please visit our website at https://www.sdcommunityfoundation.org/
About the SDCF
SDCF is a public non-profit organization established in 1987. SDCF, with offices in Pierre, Rapid City, Sioux Falls and Aberdeen administers over 1,100 funds benefiting hundreds of charitable organizations annually. The Foundation distributed nearly $18 million in grants in 2021 which made a tremendous difference in communities statewide. This would not have been possible without the generosity of our donors. If you have a specific cause you would like to support or would prefer to give for the general good of our state, please visit https://sdcommunityfoundation.org/giving to learn more or call 1-800-888-1842.