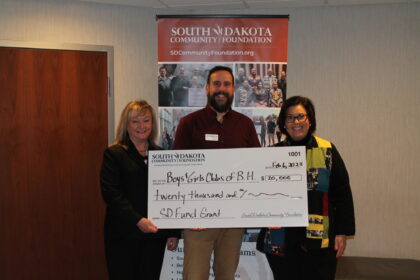 The South Dakota Community Foundation (SDCF) recently awarded the Boys & Girls Clubs of the Black Hills with a $20,000 South Dakota Fund grant. Funds will support programming aimed at helping youth develop healthy life skills.
"Boys & Girls Clubs of the Black Hills has a long tradition of serving the youth throughout the Black Hills who need us most. Our Clubs offer young people what they need and want the most: adults who respect and listen to them and a safe environment where they can have fun and be themselves. Our Board and staff are committed to making sure that all our members are inspired to be the best they can be," says Lisa Sagdalen, CEO, Boys & Girls Clubs of the Black Hills. "We couldn't do that without all our community partners like South Dakota Community Foundation. Our long history of working together continues to support young people we serve daily."
The Boys & Girls Clubs of the Black Hills started as Hill City Youth Center in 1974 and became affiliated with the national Boys & Girls Clubs of America in 2002. The club has since expanded to serve Hot Springs in 2009 and Lead-Deadwood in 2014. Funds from the South Dakota Fund will provide partial support for the "Triple Play Program" that integrates healthy eating habits, personal fitness, and healthy relationships/attitudes, with a focus on addressing childhood obesity.
"Boys & Girls Clubs across the state are doing important work in our communities," says Ginger Niemann, SDCF Senior Program Officer. "We were glad to support the Clubs in the Black Hills with the expansion of their wellness programming."
SDCF is a public non-profit organization established in 1987. SDCF, with offices in Pierre, Rapid City, Sioux Falls and Aberdeen administers 1,200 funds benefiting hundreds of charitable organizations annually. The Foundation distributed nearly $30 million in grants in 2022 which made a tremendous difference in communities statewide. This would not have been possible without the generosity of our donors. If you have a specific cause you would like to support or would prefer to give for the general good of our state, please visit https://sdcommunityfoundation.org/giving to learn more or call 1-800-888-1842.