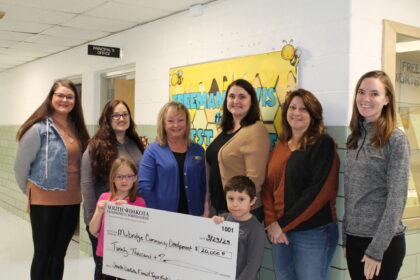 The South Dakota Community Foundation (SDCF) recently awarded the Mobridge Community Development Corporation with a $20,000 South Dakota Fund grant. Funds will provide support for start-up costs for the Tiger Kids Afterschool Program in Mobridge for K-5 students.
"The support of the South Dakota Community Foundation means the world to our organization. Because of SDCF's generosity, our organization has the opportunity to improve the lives of local elementary school children by providing safe, affordable after school care," says Haden Merkel, Mobridge Community Development Corporation President. "On behalf of Tiger Kids and all the families who love these little ones, thank you for your commitment to improving lives in Mobridge and across South Dakota."
The Mobridge Community Development Corporation was incorporated in August 2022. Its mission is to support citizens and organizations located in Mobridge in the areas of neighborhood planning, citizen participation, housing revitalization, social welfare, public safety, health, education, recreation, and other issues central to community development and the improvement of community outcomes and vitality. Mobridge has had afterschool programs in the past, but they were solely funded by grants through the school, and once funding ran out, the programs ended. The new afterschool program will rely on tuition and annual fundraising events instead.
"Afterschool programming helps communities in a lot of ways," says Ginger Niemann, SDCF Senior Program Officer. "SDCF is proud to support the start-up of afterschool programming in Mobridge."
SDCF is a public non-profit organization established in 1987. SDCF, with offices in Pierre, Rapid City, Sioux Falls and Aberdeen administers 1,200 funds benefiting hundreds of charitable organizations annually. The Foundation distributed nearly $30 million in grants in 2022 which made a tremendous difference in communities statewide. This would not have been possible without the generosity of our donors. If you have a specific cause you would like to support or would prefer to give for the general good of our state, please visit https://sdcommunityfoundation.org/giving to learn more or call 1-800-888-1842.