The South Dakota Community Foundation (SDCF) recently awarded The South Dakota Historical Society Foundation (SDHSF) with a $18,900 South Dakota Fund grant. Funds will provide support for an oral history project focused on women in South Dakota.
"Sharing stories is a powerful way to develop community and identity," says Nancy Tapken, SDHSF. "The South Dakota Historical Society Foundation is recording and preserving our state's stories, as told firsthand, by the history makers who lived them. This grant will allow us to complete interviews for The Changing Times of Women: 1960s, 1970s, 1980s. Thank you to the South Dakota Community Foundation for your generous support!"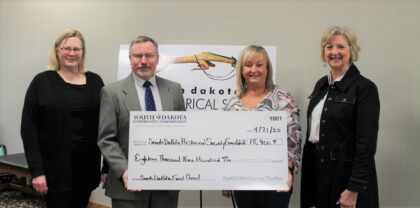 Established in 1982, the SDHSF provides philanthropic support for personnel, programs and services of the South Dakota State Historical Society (SDHS) that are not funded by the state. The oral history project funding will help with activities to record and preserve SD stories, as told by the history makers who lived them, and make the stories available and accessible to the widest possible audience via the State Archives and on their website.
"It's important to capture history from those who lived it," says Ginger Niemann. "SDCF was proud to support this oral history project."
To learn more about funding opportunities offered by the SDCF, please visit our website at https://www.sdcommunityfoundation.org/
SDCF is a public non-profit organization established in 1987. SDCF, with offices in Pierre, Rapid City, Sioux Falls and Aberdeen administers 1,200 funds benefiting hundreds of charitable organizations annually. The Foundation distributed nearly $30 million in grants in 2022 which made a tremendous difference in communities statewide. This would not have been possible without the generosity of our donors. If you have a specific cause you would like to support or would prefer to give for the general good of our state, please visit https://sdcommunityfoundation.org/giving to learn more or call 1-800-888-1842.