The South Dakota Community Foundation (SDCF) recently awarded South Dakota State University (SDSU) Extension with a $15,541 South Dakota Fund grant. Funds will provide support for the creation of a home modification toolkit to support improved housing for people with mobility limitations and older adults.
"With the support of SDCF, SDSU Extension will have the opportunity to increase the visibility of home modification as a critical housing issue for North Dakota and South Dakota, as well as help those who need home modification more readily find resources available in their community," says Leacey Brown, SDSU Extension Gerontology Field Specialist.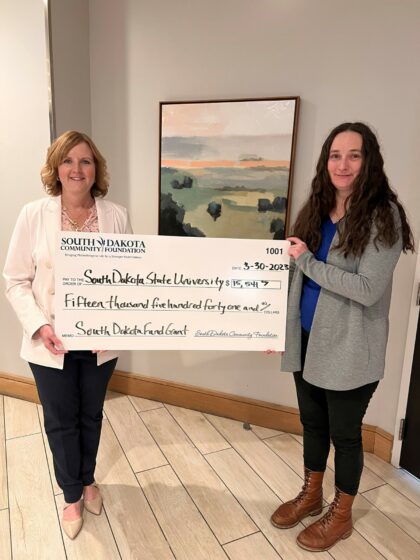 Gerontology examines the psychological, sociological, and biological aspects of the aging process. This area of expertise was added to SDSU Extension efforts in 2011. Since then SDSU Extension has engaged in education and outreach efforts to connect people across South Dakota with gerontology knowledge. SDCF funding will support the development of the Voices for Home Modification of the Dakotas Toolkit to increase knowledge and awareness about the role home design plays in quality of life for people with mobility limitations, which may be the result of tragic accidents, chronic disease, or normal age-related decline. Activities associated with the project include conducting a home modification provider survey, a home modification stakeholder focus group, and outreach at housing-related events in South Dakota.
"Issues associated with housing in South Dakota are multifaceted," says Ginger Niemann, SDCF Senior Program Officer. "SDCF is proud to support SDSU Extension in their work to develop a toolkit that will help people stay in their homes longer."
SDCF is a public non-profit organization established in 1987. SDCF, with offices in Pierre, Rapid City, Sioux Falls and Aberdeen administers 1,200 funds benefiting hundreds of charitable organizations annually. The Foundation distributed nearly $30 million in grants in 2022 which made a tremendous difference in communities statewide. This would not have been possible without the generosity of our donors. If you have a specific cause you would like to support or would prefer to give for the general good of our state, please visit https://sdcommunityfoundation.org/giving to learn more or call 1-800-888-1842.