The South Dakota Community Foundation (SDCF) recently awarded Helpline Center with a $15,000 South Dakota Fund grant. Funds will support marketing efforts connected with implementing the new 988 phone number for the Suicide and Crisis Lifeline.
"The Helpline Center is so appreciative of the grant from the South Dakota Community Foundation to support the work of marketing the 988 phone number in rural areas of the state," says Janet Kittams, CEO, Helpline Center. "With the launch of the 988 phone number this past July as the Suicide & Crisis Lifeline, it is critical that we spread this message to everyone in our state. We want everyone to know, especially those in isolated areas of our state, that there is hope available and it's as simple as dialing 988."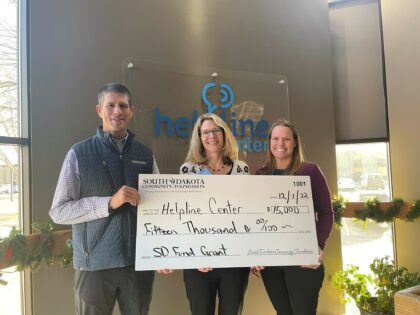 The Helpline Center began serving South Dakota in 1974 and serves thousands of people every year by connecting individuals to resources and support, providing referrals, building community volunteers, offering hope to individuals with thoughts of suicide and supporting families bereaved by suicide loss.
"The SDCF is pleased to partner with the Helpline Center to spread awareness of the new three-digit phone number 988," says Ginger Niemann, SDCF Senior Program Officer. "We're grateful for the critical support they provide to all corners of South Dakota."
About the SDCF
SDCF is a public non-profit organization established in 1987. SDCF, with offices in Pierre, Rapid City, Sioux Falls and Aberdeen administers over 1,100 funds benefiting hundreds of charitable organizations annually. The Foundation distributed nearly $18 million in grants in 2021 which made a tremendous difference in communities statewide. This would not have been possible without the generosity of our donors. If you have a specific cause you would like to support or would prefer to give for the general good of our state, please visit https://sdcommunityfoundation.org/giving to learn more or call 1-800-888-1842.