The South Dakota Community Foundation (SDCF) recently awarded Wambli Ska Society aka Wambli Ska Okolakiciye with a $10,000 South Dakota Fund grant. Funds will be used for general operating support for the organization's outreach vehicles, program expenses at the Teen Center and other repairs needed.
In a statement the organization says, "Wambli Ska Okolakiciye is very honored to receive this funding. Unrestricted funds will allow us to focus on providing essential services and responding to pressing needs of our marginalized Native American Community in Rapid City, instead of worrying about general operating expenses. In the long-term, the funding will aid us in strengthening our organizational capacity."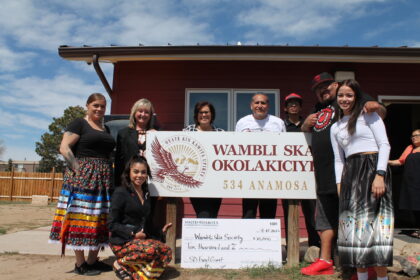 Wambli Ska Okolakiciye is a native-led nonprofit in Rapid City, whose mission is to provide structure, stability, and love to Native American youth and their families. The Society's current programming includes a Teen Center open 5 days a week, case management, an Oyate Court focused on juvenile and young adult diversion and restorative justice, cultural outreach, an accredited homeschooling program called Living Hope Academy, street outreach, emergency shelter, and violence prevention.
"Funding from our South Dakota Fund grant program will support Wambli Ska Society in the many ways they support the Native American youth in the Rapid City community," says Ginger Niemann, SDCF Senior Program Officer. "Staff time is a valuable need for nonprofits."
To learn more about funding opportunities offered by the SDCF, please visit our website at https://www.sdcommunityfoundation.org/
SDCF is a public non-profit organization established in 1987. SDCF, with offices in Pierre, Rapid City, Sioux Falls and Aberdeen administers 1,200 funds benefiting hundreds of charitable organizations annually. The Foundation distributed nearly $30 million in grants in 2022 which made a tremendous difference in communities statewide. This would not have been possible without the generosity of our donors. If you have a specific cause you would like to support or would prefer to give for the general good of our state, please visit https://sdcommunityfoundation.org/giving to learn more or call 1-800-888-1842.