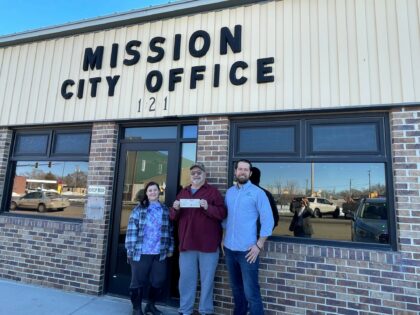 The South Dakota Community Foundation (SDCF) recently awarded the City of Mission with a $10,000 South Dakota Fund grant. Funds will support repairs to their city pool.
"For me the pool reopening is a reminder of when I was growing up in Mission," says Heather Petersen, City of Mission Finance Officer. "As a lifelong resident, the pool was an important part of not only my childhood but for many of the residents. I look forward to new generations having those same great memories."
The City of Mission was incorporated in 1932 and is located on the Rosebud Indian Reservation. The city pool in Mission is the only municipal pool in Todd County. The pool closed after the 2016 season and is in need of repairs. The City of Mission has actively sought out funding for the needed repairs and received a $100,000 Wellmark matching grant to support the endeavor.
"City pools provide an important outlet for summer recreation and is the priority of the community," says Ginger Niemann, SDCF Program Officer. "The SDCF is glad to support the effort to restore the city pool in Mission."
To learn more about funding opportunities offered by the SDCF, please visit our website at https://www.sdcommunityfoundation.org/
SDCF is a public non-profit organization established in 1987. SDCF, with offices in Pierre, Rapid City, Sioux Falls and Aberdeen administers 1,200 funds benefiting hundreds of charitable organizations annually. The Foundation distributed nearly $30 million in grants in 2022 which made a tremendous difference in communities statewide. This would not have been possible without the generosity of our donors. If you have a specific cause you would like to support or would prefer to give for the general good of our state, please visit https://sdcommunityfoundation.org/giving to learn more or call 1-800-888-1842.