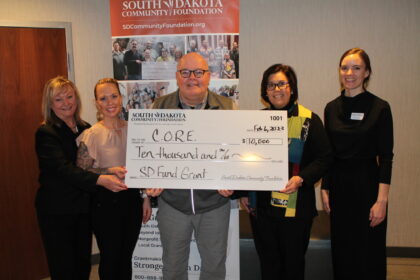 The South Dakota Community Foundation (SDCF) recently awarded C.O.R.E. (Community Organized Resources in Educating Youth) with a $10,000 South Dakota Fund grant. Funds will support the "Freshman Impact: Caught in the Moment" program, a day-long accident simulation experience.
"We value our community partners who support C.O.R.E. on the local and state levels," says Rick McPherson, C.O.R.E Executive Director. "SDCF support is invaluable in helping C.O.R.E. achieve our mission to save teen lives in South Dakota."
For the last 16 + years C.O.R.E. has teamed up with many South Dakota communities and their local resources to teach SD freshman high school teens the dangers of distracted/impaired driving, and other risk-taking choices in their lives such as: teen suicide, human trafficking, social media bullying, teen violence, and domestic violence. The Freshman Impact program endeavors to expose students to the consequences of wrong choices in a controlled environment.
These funds will support the day long program in 12 scheduled communities across South Dakota.
"The accident simulation C.O.R.E. facilitates is a powerful learning experience to students," says Ginger Niemann, SDCF Senior Program Officer. "We are proud to partner with them on this important program for our youth."
SDCF is a public non-profit organization established in 1987. SDCF, with offices in Pierre, Rapid City, Sioux Falls and Aberdeen administers 1,200 funds benefiting hundreds of charitable organizations annually. The Foundation distributed nearly $30 million in grants in 2022 which made a tremendous difference in communities statewide. This would not have been possible without the generosity of our donors. If you have a specific cause you would like to support or would prefer to give for the general good of our state, please visit https://sdcommunityfoundation.org/giving to learn more or call 1-800-888-1842.